These seats
fit
great!
And they
feel
great -- in my winter-garaged '66. Gotta wait 'til Spring to get on-the-road seat time.
Straightforward install
:
07 Mustang seats into a 65 Mustang!! - MustangForums.com
With the 3/4-inch spacers described in the above link,
I gained an inch of steering-wheel clearance
compared with the stock seats (6.5" vs 5.5").
Maybe
the spacers aren't necessary
if
the lower plastic moulding is removed. I didn't try this... IMO it'd look unfinished & unprotected. But I'm only 5'10" -- taller guys might want the little extra headroom.
Tip
: For added firmness, put a jute pad under the driver's seat bottom foam (see pic). I like this. But you don't sink into the seat as much, so there's less headroom compared to a softer seat.
Tip
: I used grade 8 bolts & flange nuts and thick-wall spacers. 1-1/2 inch bolt with the 3/4 inch spacer. I wouldn't use less than 5/16" bolt diameter... 3/8" (or more?) for peace-of-mind, just make sure it doesn't interfere with the track sliders.
I got all the nuts & bolts & spacers at my local Ace Hardware.
Tip
: To remove the '07 seat tracks, get a 15mm
ratcheting
wrench. Part # 79-215 at Autozone has nicely angled heads, works perfect. Or for a little more money get a set at Harbor Freight.
Unexpected problem
: It took months to find a nice set of tan cloth seats from a late-model
base
Mustang.
Old seats:
New seats:
New vs Old: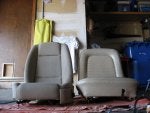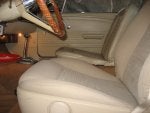 Jute pad: