My question is with the intermediate band. It's got a 2 1/8 inch wide, 1/8 thick intermediate band. I was told by a parts dealer that it couldn't have come from this transmission??? He also said I needed to replace it with the same type of band (which is pricey and a bit hard to find). (The transmission parts guy actually told me he needed the old one as a core and wouldn't ship me a new one unless I sent him mine first) I don't think, though, that anyone has opened up this C4 before. It looks like the badshoe video guy pulls out the same band in his video.
Can I simply replace this band with one of the more flexible band that comes in all of the rebuild kits (it looks like the badshoe guy does it)? Did this transmission originally come with this thick and?
Thanks!
Hhhmm? To quote Tommy Lee Jones in 'The Fugitive', this sounds a little "hinkey"! Frankly, I'd check with other suppliers.
You shouldn't have any problems installing a later-model intermediate band in your C4. However, with so many good, durable performance parts available at reasonable prices, there's little reason to choose a standard or 'economy' rebuild kit, even if you don't hot rod your car.
I've had good luck getting quality parts from Oregon Performance Transmissions, or even eBay vendors such as this one.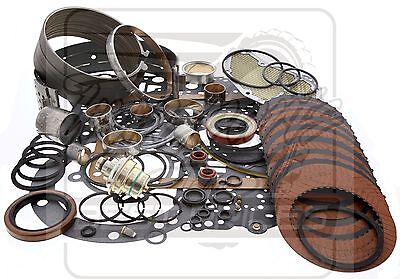 Find many great new & used options and get the best deals for Fits Ford C4 Raybestos Red Performance Deluxe Transmission Rebuild Kit at the best online prices at eBay! Free shipping for many products!