Discussion Starter
•
#1
•
So...back on track this month with a Beautiful '69 Mach 1 from Ken. This car is well done and I can only image it drives and sounds as well as it looks. Enjoy Ken's story and photos below. Ken, Thank you for sharing with the group.
I first saw this 1969 Mach 1 in the late 1970s. It was in my Uncle's neighborhood outside in a driveway; when I visited my cousins we would ride bicycles and stop by and just drool over it. In 1987,through some odd coincidences I was able to buy the car for $500 and some construction work at the owner's house. I was 20 years old.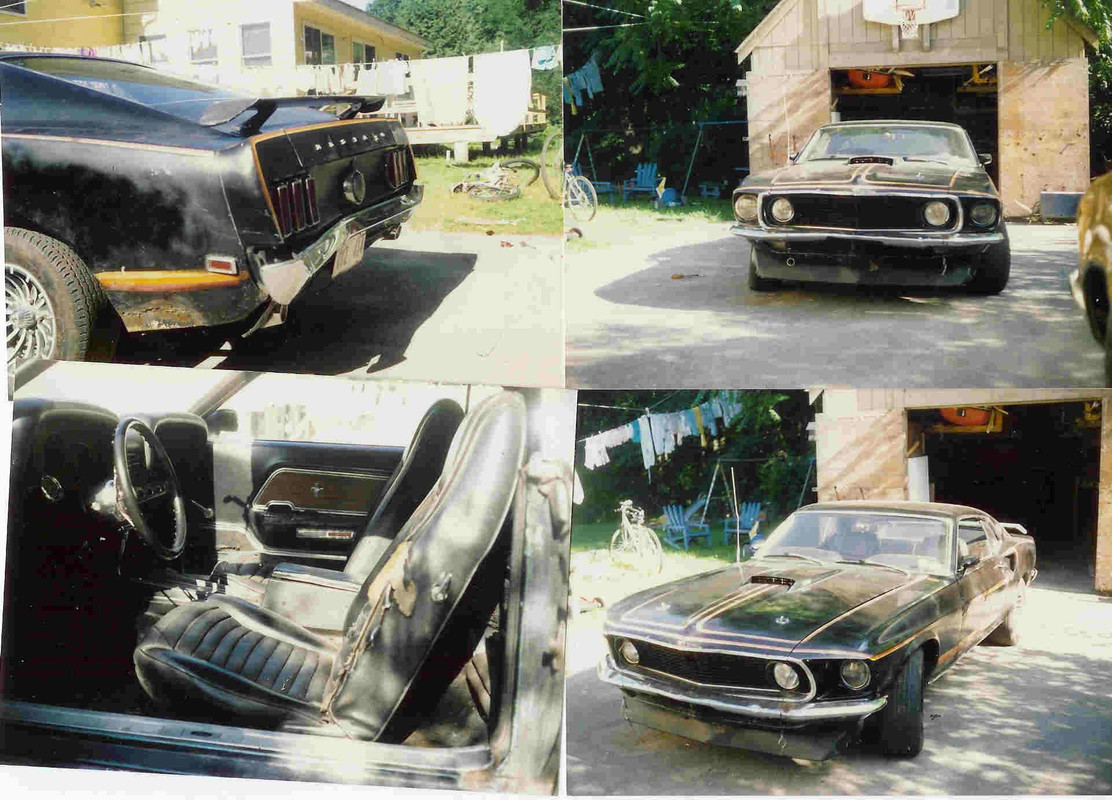 It was a complete Northeast rust bucket that in hindsight from a labor and financial standpoint should not have been restored. I got it on the road but after a season of driving around, it came apart for what turned into a complete overhaul. Doors from California, trunk lid from Missouri, rust-free fenders from Mostly Mustangs in Hamden CT, new floors, engine compartment panels, wheel wells and repop quarter skins all done by myself. With the exception of the hood and roof, there is little else left that the Metuchen Ford assembly line workers had a hand in.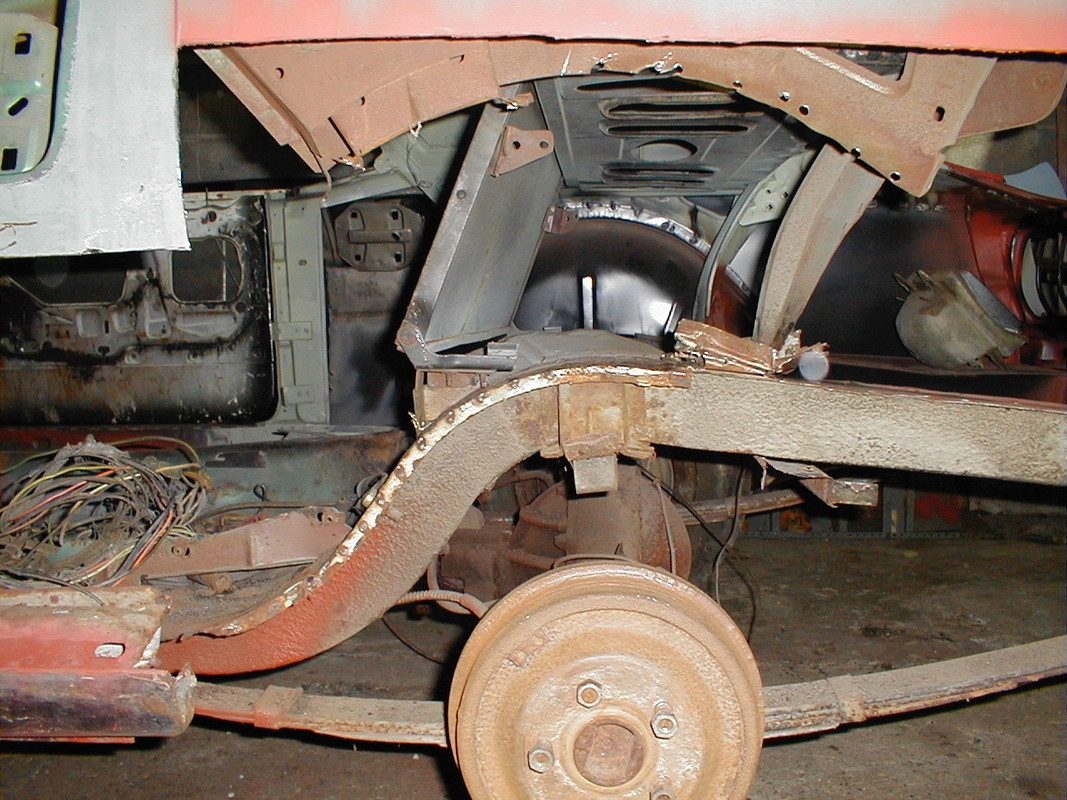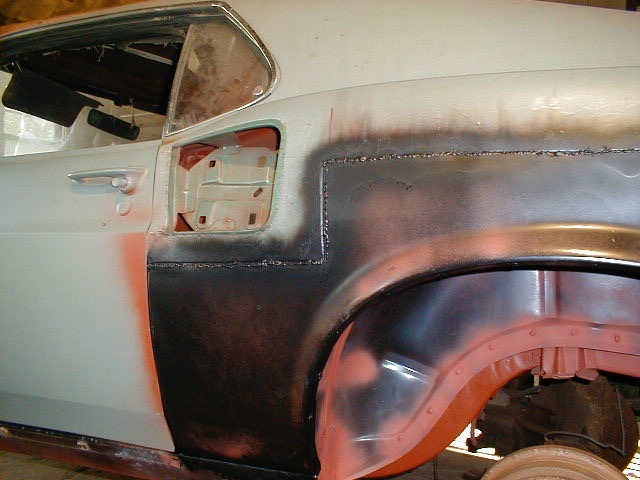 Life got in the way college/job/marriage/kids but I held onto it. I dragged it from my fathers garage to my first house, and then second house, and finally got it back on the road around 2005. Originally I had restored it to a fairly mild looking restomod, going with the original Silver Jade Metallic paint, TT2s, renewed but original suspension and interior. I did build a monster 408W with a TKO600 for it, which completely overpowered everything else on the car.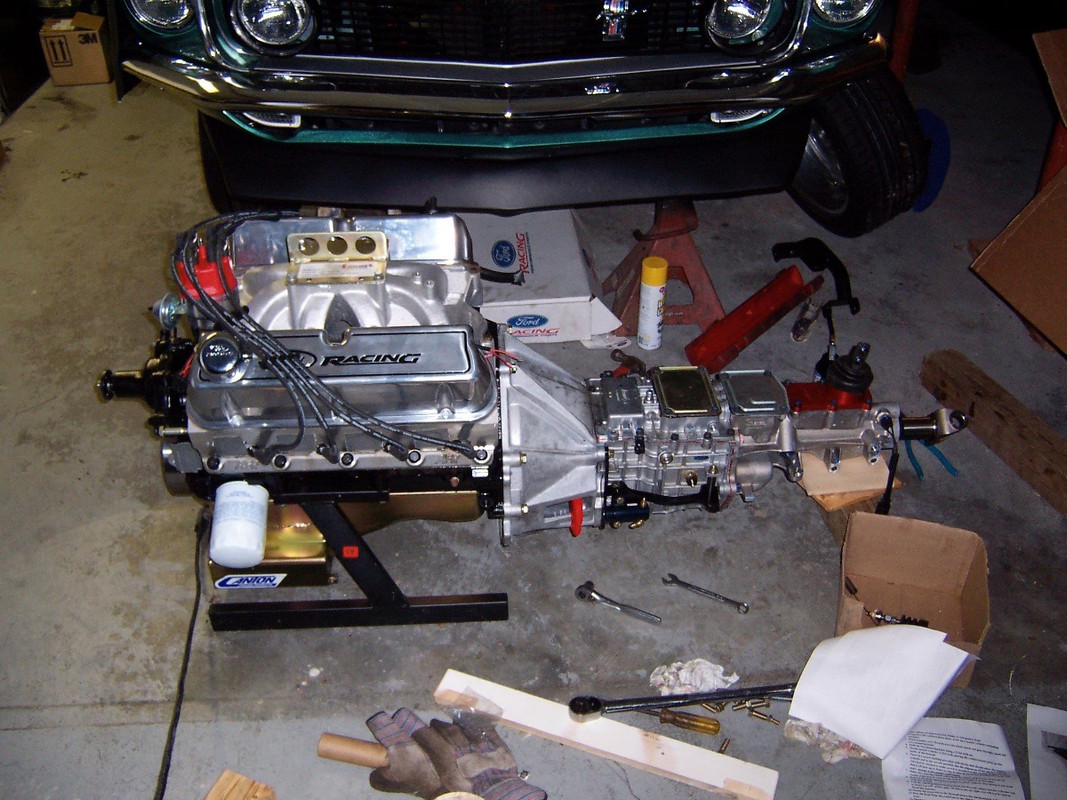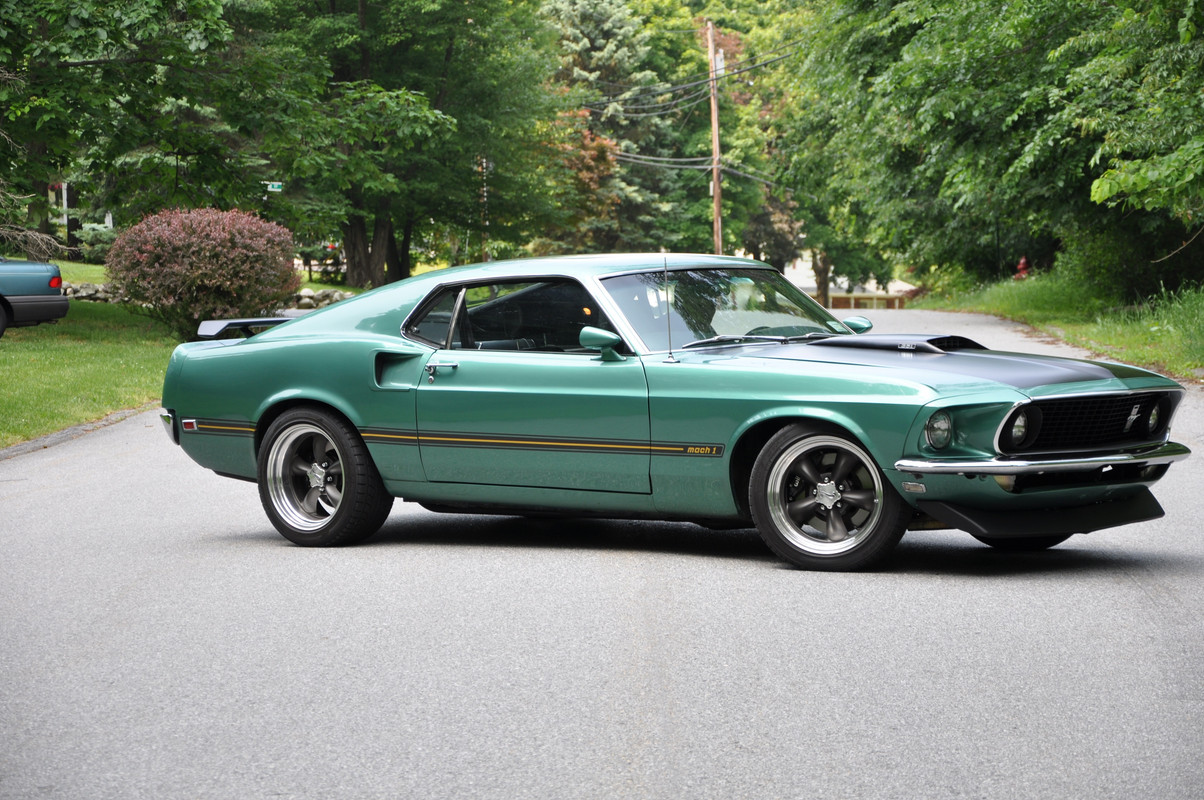 I drove the car like this for a few years. It was a very enjoyable street car with tremendous roll-on power. Lotta car shows and waves going down the road etc. but I was getting bored with actually driving it. I had begun to do some HPDE track days in my other car and decided to take the Mustang down a more serious road racing motif. First up was better brakes, Wilwood discs and a Hydratech hydraulic brake booster to address the lousy pedal I always had due to the lumpy cam. I also completely overhauled the front suspension with TCP power rack, TCP upper and lower arms, SoT strut rods, Opentrackers roller perches and Mike Maier's 1-1/8" sway bar and race Bilstein shocks.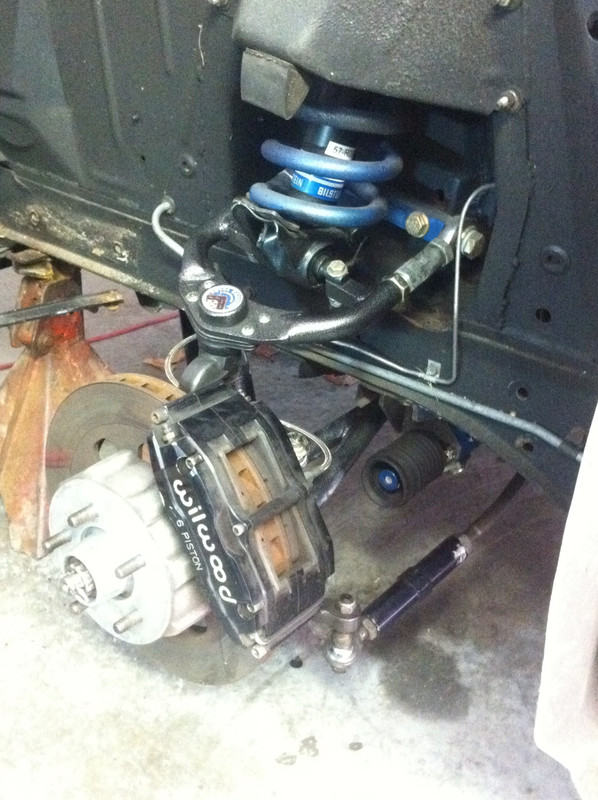 Not too long after that, I ran over a toolbox that had fallen onto the middle of an interstate and tore up my front valance and front fender. This kicked off another phase of the car's life… I wanted to flare the front and rear fenders to fit wider stickier tires on it and I always liked the vintage Trans Am look anyway. Steve Stroppe had just done the white Anvil Mustang and I got one of the earliest Anvil carbon fiber hood and front fenders that were made. The fenders are a subtle 1-1/2" wider than stock and permitted me to get some 265 tires underneath without any rubbing.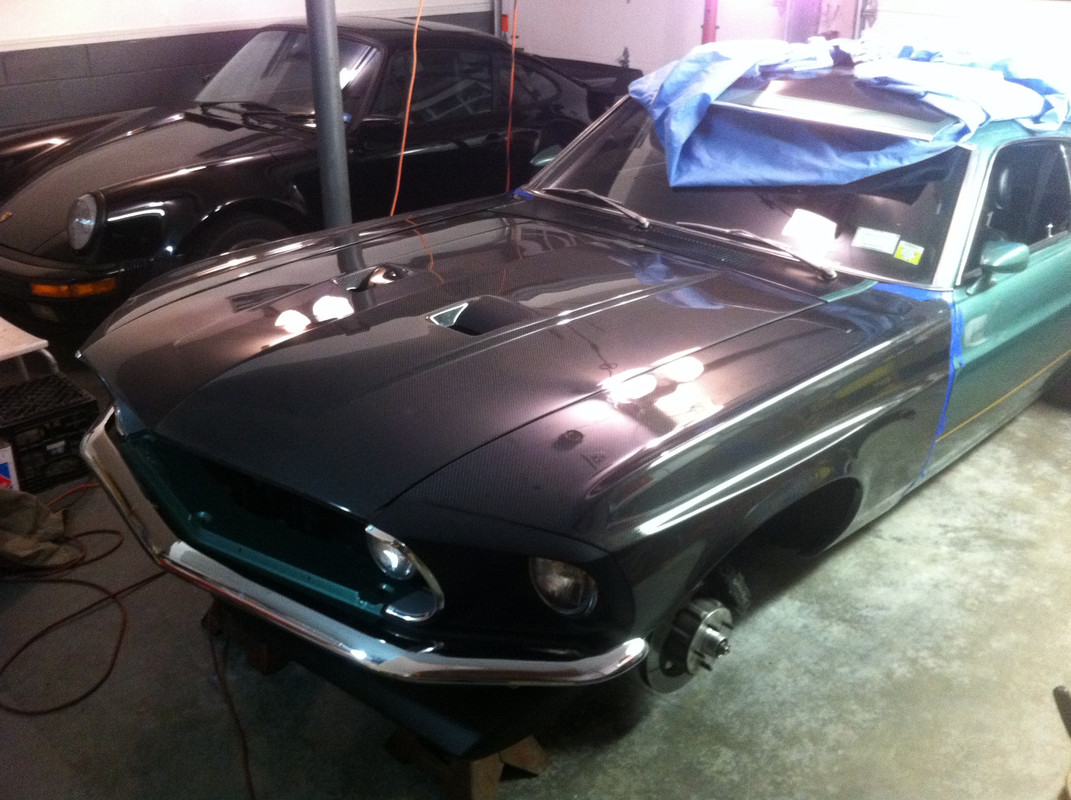 Since I was into it now for paint, I decided I wanted to flare the rear fenders as well to fit some 315s and then paint it the same color I had seen on a Lamborghini that had stopped me in my tracks: House of Kolor Tangelo Orange. I brought it up to Jake's Rod Shop in Maine after meeting him at a track and seeing his work.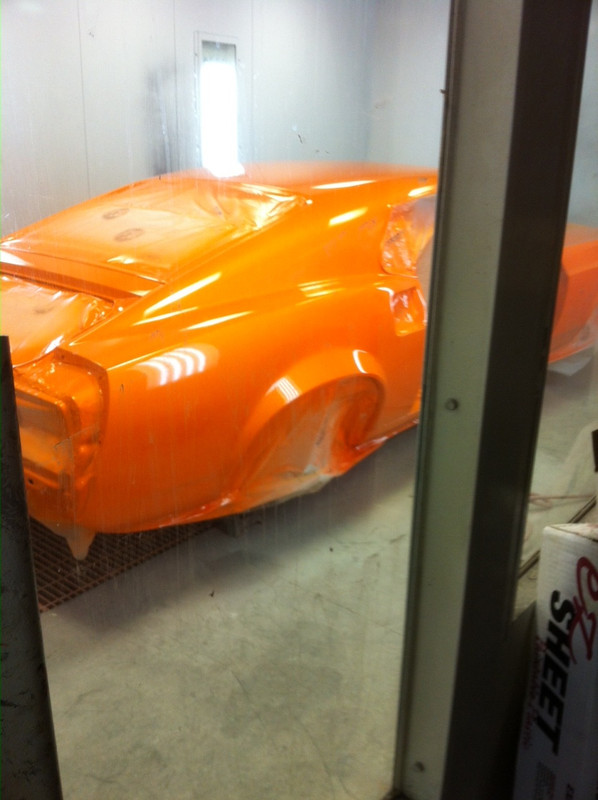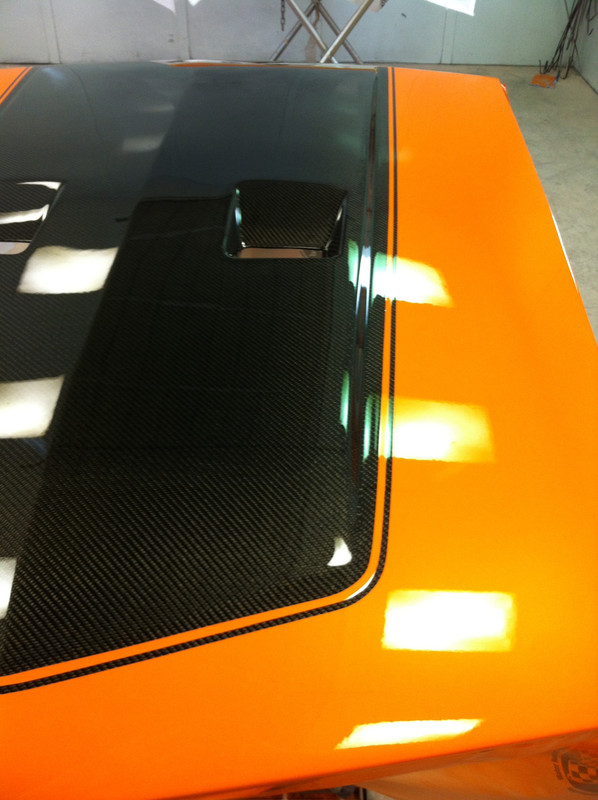 While it was at Jake's, we installed the Maier panhard bar to tie the back end down. That thing is incredible, by the way. One of the best improvements in turn in and responsiveness I've done to the car.
Here's a shot of the panhard bar, the rear Wilwoods, and the 9" rear with a truetrac diff and 3.73 gears.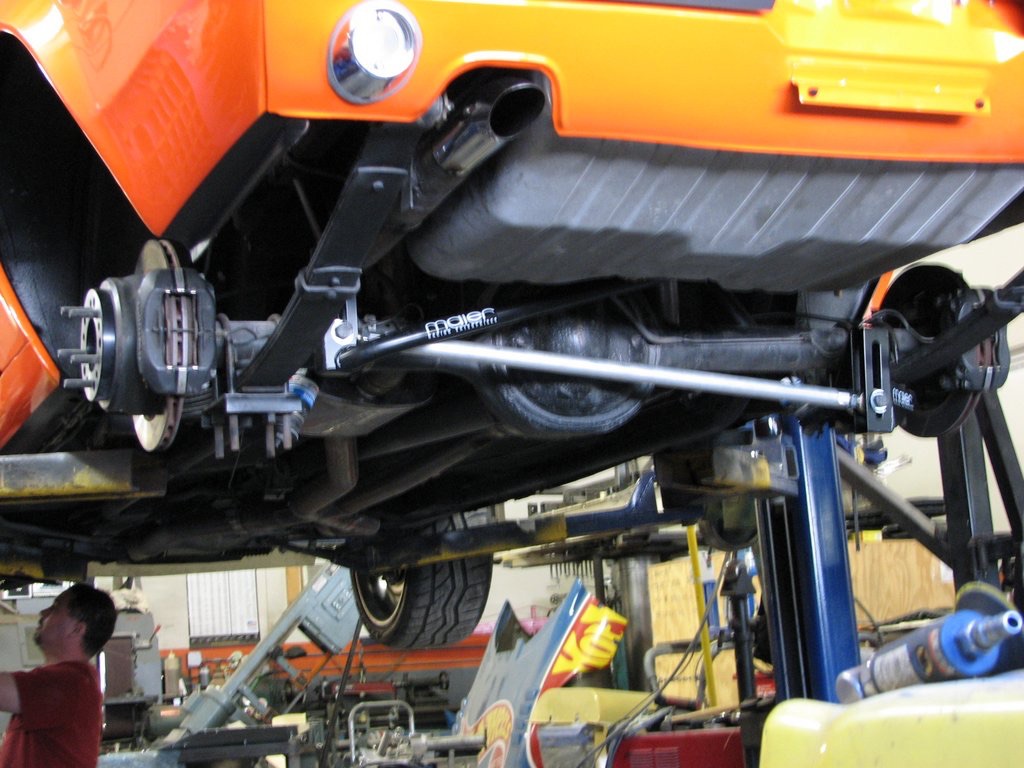 Here's how it looks at the moment from the outside. The front spoiler and turnbuckles was a custom thing I had Jake make up- I worry about it all the time because it's a one off. The same with the custom rims: they were waterjet cut from billet by a guy in California that since went out of business. If I ever bend one I'll be out of luck unless I can get new barrels from somewhere. I've had it at tracks all over the Northeast and it does draw a crowd. The color, the vintage look (everything there is new-ish) and the sound gets a lot of thumbs up at the track or on the road.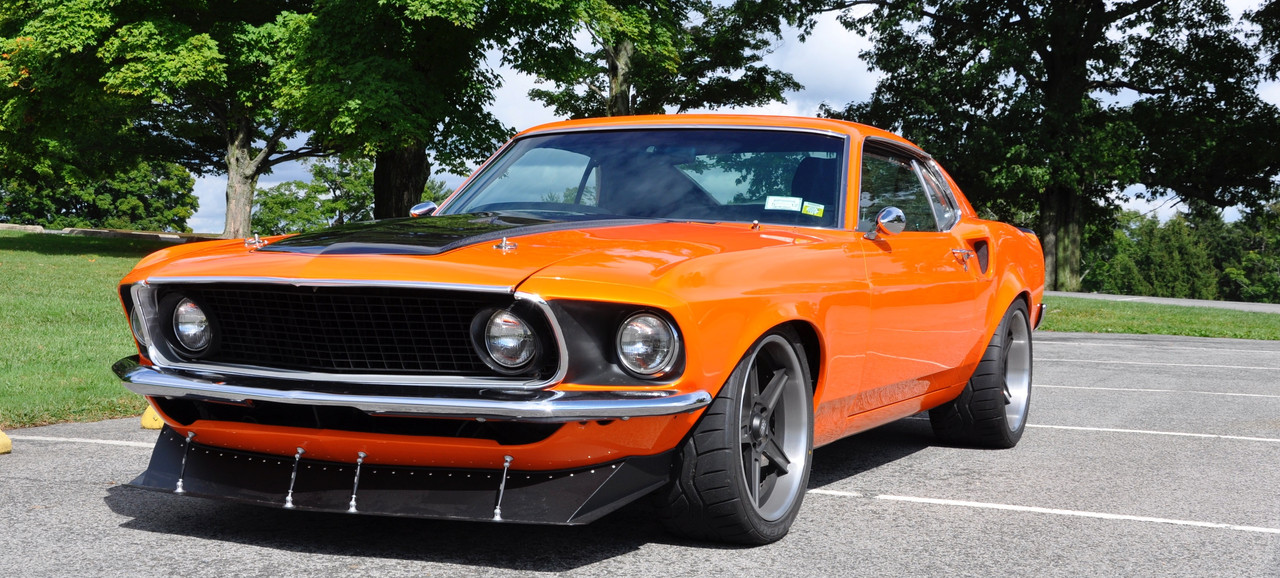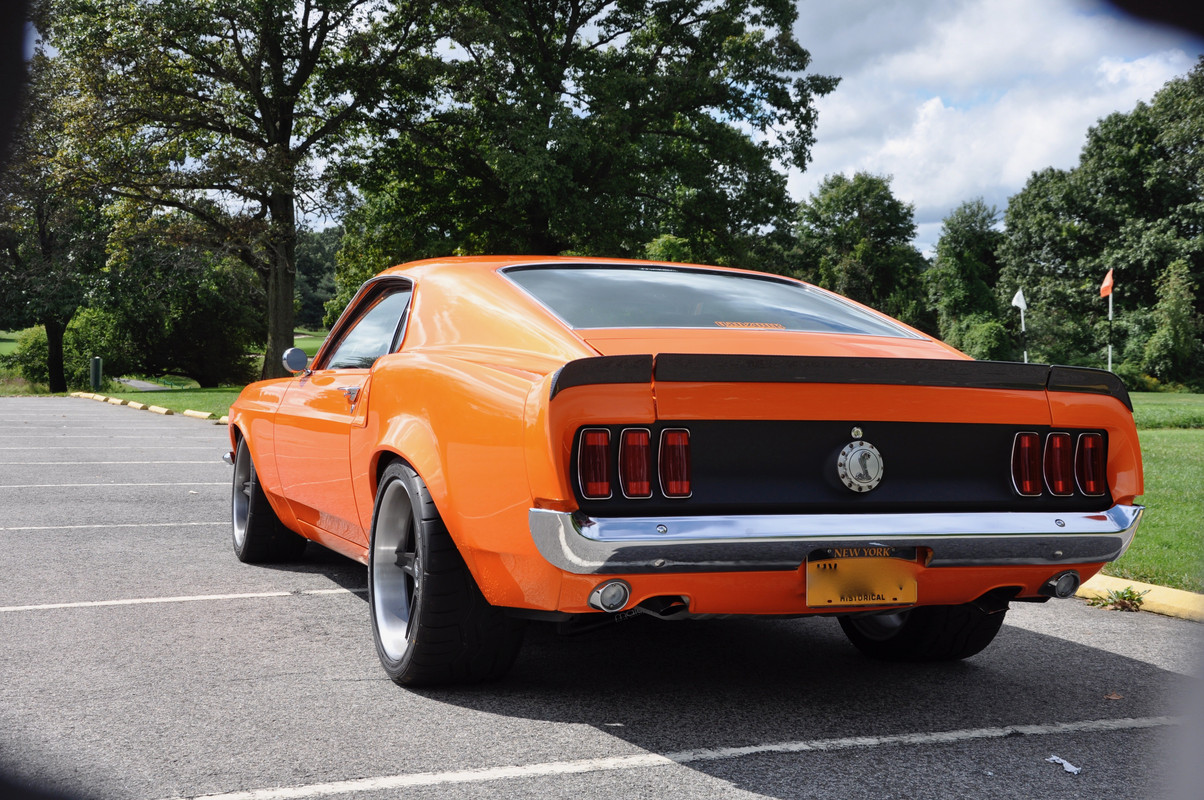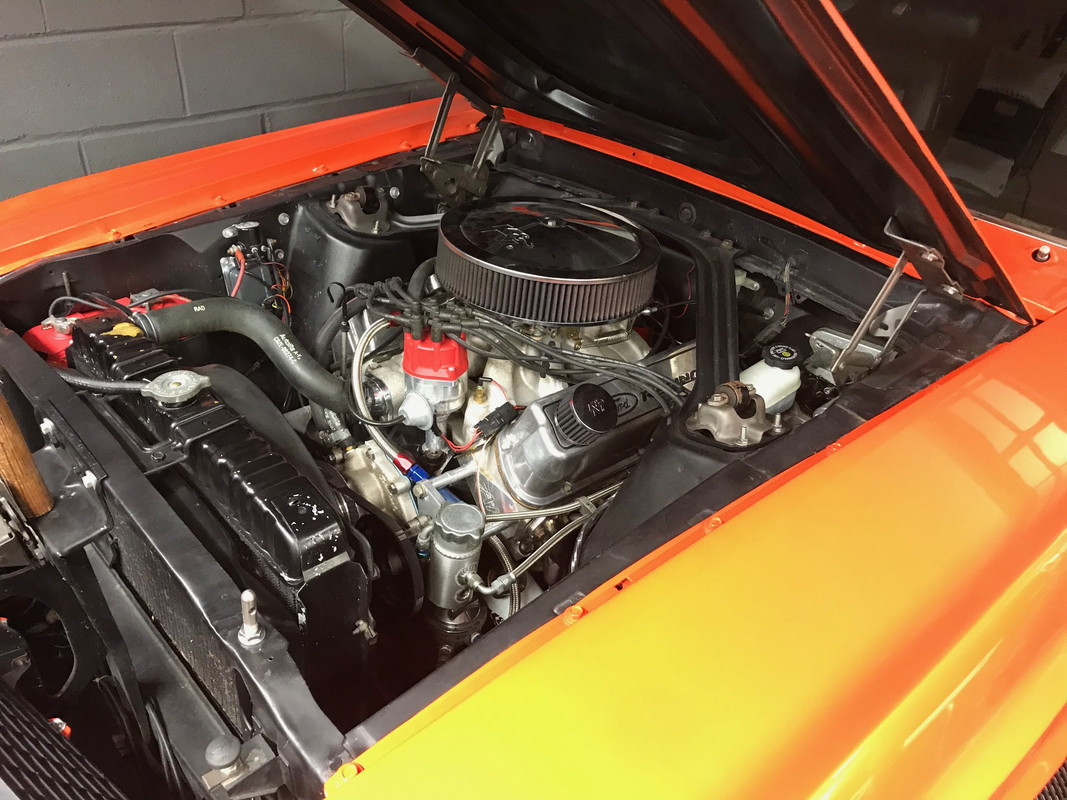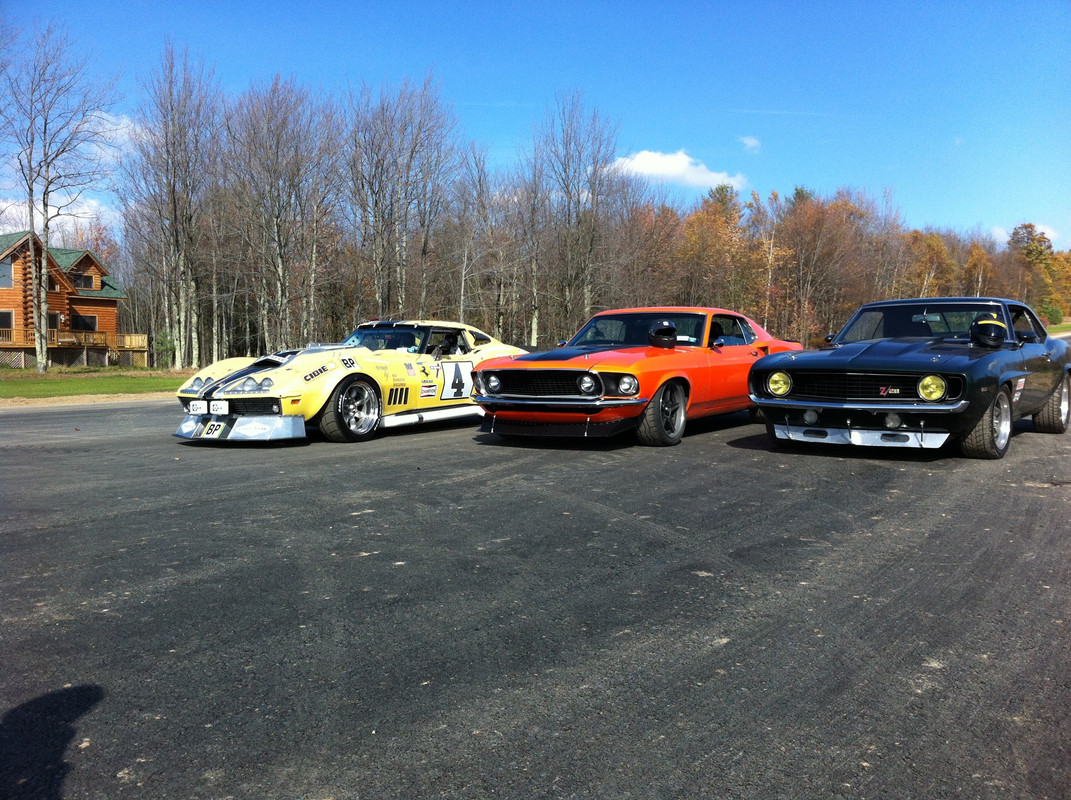 When you've had a car this long, and enjoy tinkering and changing things up, something is always going on with it. Drives my wife nuts. I sold the original seats and located some vintage Recaro Model C seats from an early 1980s euro BMW. I found a guy, also in CA, and also out of business now, that recovered the seats and used an orange stitching to really tie the interior in with the exterior color. I also came across some sick looking gauges from New Vintage USA gauges that fit in the original cluster but gave me a complete set of analog gauges.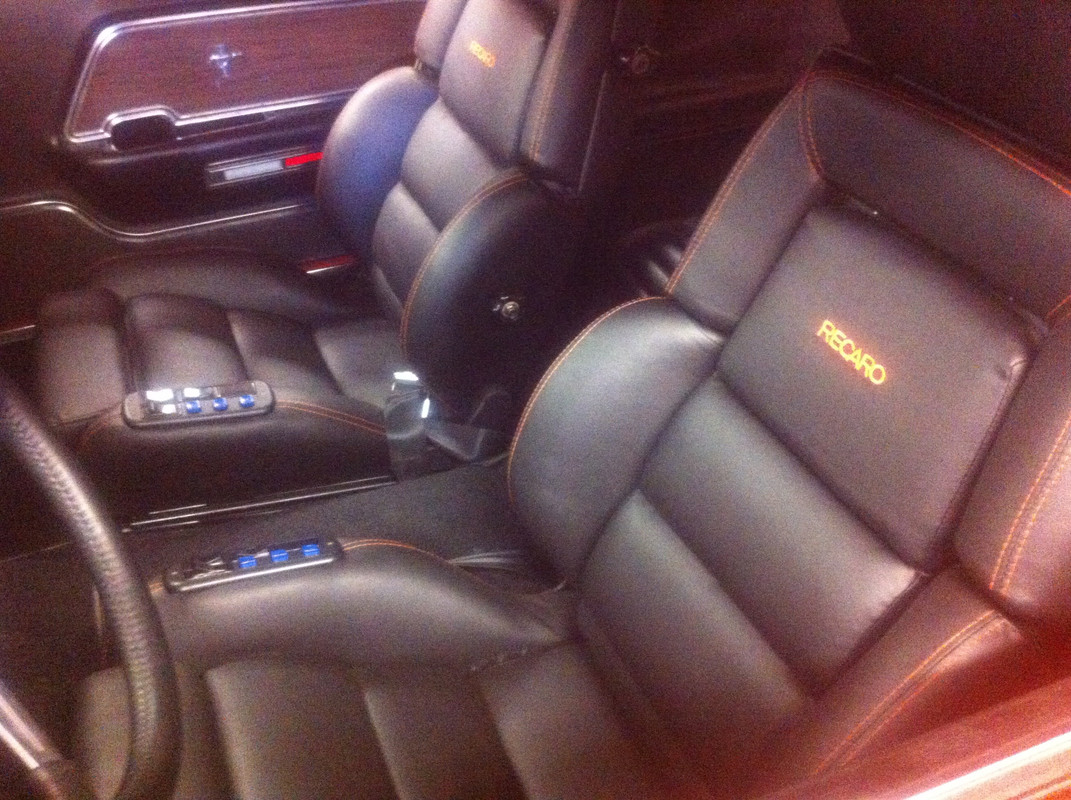 I've been just been driving it now like this for awhile. I'm thinking of softening up the front end since it's pretty damn intense and I haven't been tracking the car in three years now. I wanted to try Shawn's SoT coilovers on my TCP arms, but he wouldn't sell them separately so I'll probably reach back out to Chris Alston's and get their double adjustable coil overs and see how that goes. Just this week actually I'm finishing off a headlight upgrade: I got four projector headlights from Dapper Lighting. The outer two low beams are an LED setup for supposedly 200% more light than even the upgraded halogen high beams. I couldn't fit the LED in the high beam buckets without cutting up the radiator support, which might sound funny given the rest of the car's mods.