Discussion Starter
·
#1
·
So I thought I would start the New Year by completing the "Rat Pack". For January I chose dobrostang with this '66 Fastback. dobrostang is a regualr here that most will recognize his car. However, the story behind the car is interesting and entertaining. I really appreciate the fact that dobrostang uses and abuses his car at several events a year. Keep on bangin' those gears dobrostang, and thanks for sharing your story.
Enjoy!
Midlife Crisis Extraordinaire​
I had been running a beautiful Emerald Green Vintage Triumph TR6 I fully restored with some tasteful hidden mods at Autocrosses and fun track days at Sears Point, Laguna Seca and Thunderhill for years when I decided to upgrade to a coupe for a stiffer chassis and lots more horsepower. Frankly, I was turning 40 and entering my first mid-life crisis. I wanted a stockish Mustang that was fast and handled great but I didn't want a GT350 or anything I shouldn't Resto-mod. I found "Old Blue" in the San Francisco Chronicle and bought it in 1995 from a kid (22ish) who's (hang-in-there) best-friend-from-childhood's Grandmother bought the car new in Chico California and drove it for some 30 years in Fremont, across the bay from Silicon Valley just south of Oakland CA.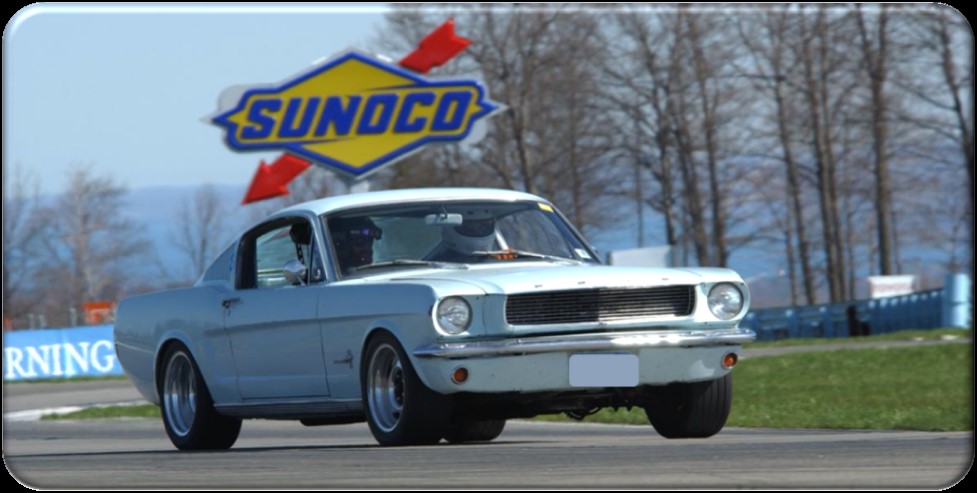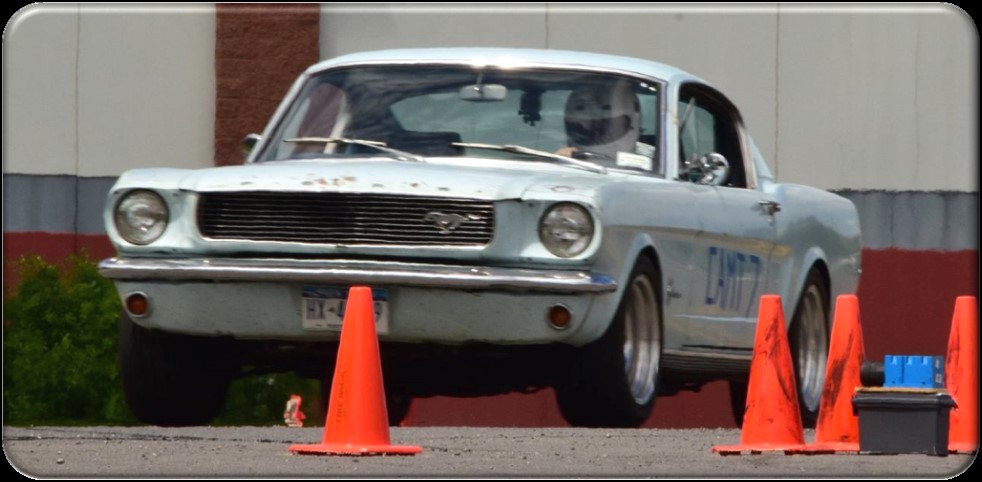 The old Fastback was born in San Jose a mere 20 miles from where it spent its entire life till I bought it. Arcadian blue T code built on the 17th of March 1966, with a 6 cylinder - 3sp manual, two tone blue interior with AM and Heater, Ford threw in the Cigarette lighter free. The "kid" had grown up riding daily in the car, eventually Gramma gave it to her grandson in the early '90s. They decided to make a drag racer out of it installing: a stock 351 Windsor placeholder, Close-ratio-Big-Block-Toploader with Hurst comp plus, narrowed 9" with 350s and posi, Granada disks, 4 turn steering box on manual steering gear, 13" Grant steering wheel, new Red Konis, chromed Monte Carlo bar (curved;o)) and export brace, 15" Weld Draglites, new gas tank, Flowmaster 50s with dumps and what he told me were "big block" front springs. She was perfect for my plans with a good starting point to launch from.
When I first saw her, she was a bone stock survivor body and original interior with unmolested California sheet metal sporting 60s vintage black California license plates. The car just felt like it had been loved through much of its life, but she was quite long in the tooth with "rust appointments" especially across the trunk with a very presentable original interior.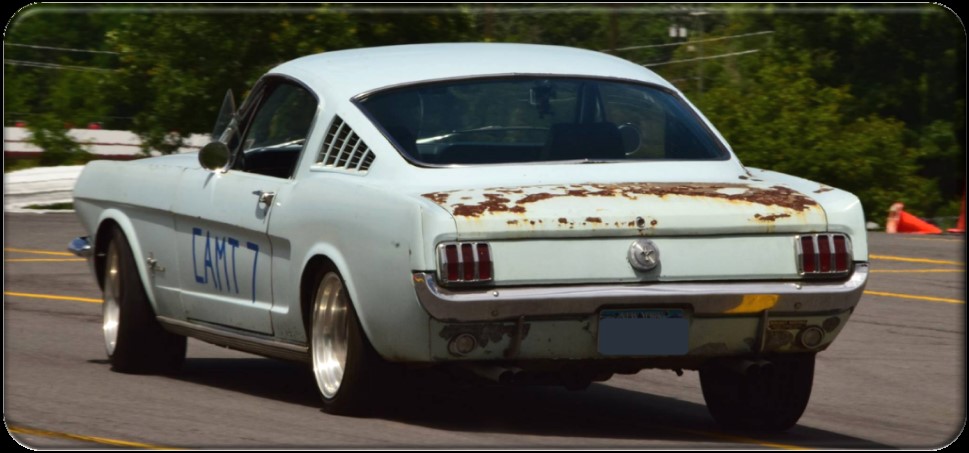 It was accented nicely with beautiful California chrome, including the original plastic gauge panel and door panels with faint rust appointments where elbows and sun wore the paint on the sills. I frankly knew before I got half-way through my first lap around this Powder Blue pony that she was coming home with me.
The "kids" were just about to strip the car out for a cage and tubs etc. In the garage, there were huge tubs, slicks, JBA long tubes, Dart Windsor heads, Roller Cam, MD 6AL, Torker 2 intake, and 4 row copper radiator all still new in boxes. I bought everything but the slicks, nitrous kits and tubs for $6500. They had actually done a pretty good job so far and I bet that car would have been awesome had they finished their plan but a sad ending for a cool survivor. Trying to get more HP out of the stock 351, they goofed around with cam timing and crashed the valves turning a good 351 into a boat anchor in microseconds. In a moment of weakness, they put the car in the paper. Enter me with trailer.
It took me 4 months to build and install the motor in an outdoor storage yard of the marina I lived in in Silicon Valley - 15 min south of San Francisco. She turned out to be quite a brute. Lesson 1: the top end was quite mismatched to the bone stock lower end. She started pulling hard at 4k and I'm not sure it had really peaked HP wise at 6500 RPM. She pulled 298hp and 329 ft lbs at the rear wheels on a mobile dyno. Mind-numbingly raw with Flowmaster 50s and dumps in front of the rear axle. Perfect fodder for a respectable mid-life crisis!
The car was a ball from 4500 to redline on the track but doggy below 3500 in traffic and autocrosses. I blew that motor 3 times in 6 months spinning the same rod journal – bad advice and inexperience. So, I ended up buying a very low mileage 400hp/419ft-lb motor from a Kit Cobra guy going big-block who had a personal connection with Vic Edelbrock: Brand new 351 Ford Motorsport FT4E block with pistons fly cut in place using a special fixture Vic owned, Performer RPM package 202 Heads, Hyd Flat Tappet Cam and Intake, 750 Holley Vac Sec., new swung distributor - Best $3000 I ever spent. I added from my current motor: new Holley 650 double pump, Edelbrock water pump, Shorty Headers, March underdrive pulley set, Mildon Road Race pan, windage tray and aluminum flywheel. I have respectfully beat the daylights out of that motor since 1998. Still strong as ever and the most dependable car I own and absolutely delightful to drive with a nice flat torque curve that delivers a respectable punch from 2500 to 6500 redline or in layman's terms; just about any time you punch it - it's there and best of all, she's pretty frigg'n indestructible with a 6500 chip in the rev limiter….
Since then it's been a long road for the car over the past 23 years. Starting from front to back:
·
Custom fabricated Radiator overflow bottle – very clean and tucked away
·
Custom fabricated Monte Carlo bar
·
Export Brace
·
Z Ray style under engine brace that has since been modified to a custom fit under the lowered motor tucked between the pan extension and the drain plug
·
Fabricated Heim jointed Strut Rods
·
Modified stock UCAs; Shortened ½" with 15 degrees of ball joint angle correction
·
Modified LCA to add an inboard Spherical Bearing joint
·
Fabricated Roller Spring perches
·
1" Arning Drop
·
1998 Windstar Master-cylinder (not shown in pic), '86 T bird proportioning valve system and 10# residual valve on drum brake line. Braided brake lines up front, rear comes next.
·
Installed Stock Power Steering, ran it 15 years, loved it but replaced with EPAS when it got tired
·
Installed EPAS and moved the wheel 2" toward the driver for more leg room
·
Lowered Clutch and Brake pedal 1" for more leg room
·
Mounted the throttle pedal so it is even with the brake pedal during braking for optimal Hell-toe action when working 3 pedals with 2 feet during critical operations
·
Changed the throttle leverage to get better throttle control, it was too sensitive
·
Rearranged the locations of the original Ford gauges, to cluster Oil pressure and Water temp together on the driver's door side of the steering wheel. I mounted the tach on the steering wheel just below these two gauges. On the track I have trained myself to check gauges on every straight – this enables a quick gauge check in one blink / location and get my eyes back where they belong. My Dad clustered the tach, oil and temp on my old TR3 he raced in the day
·
Riccaro seats E21s with custom mounts on stock rails slammed as low as possible for helmet clearance and mounted reward 2" for leg room. Took me forever to find high back seats that don't dominate a Mustang interior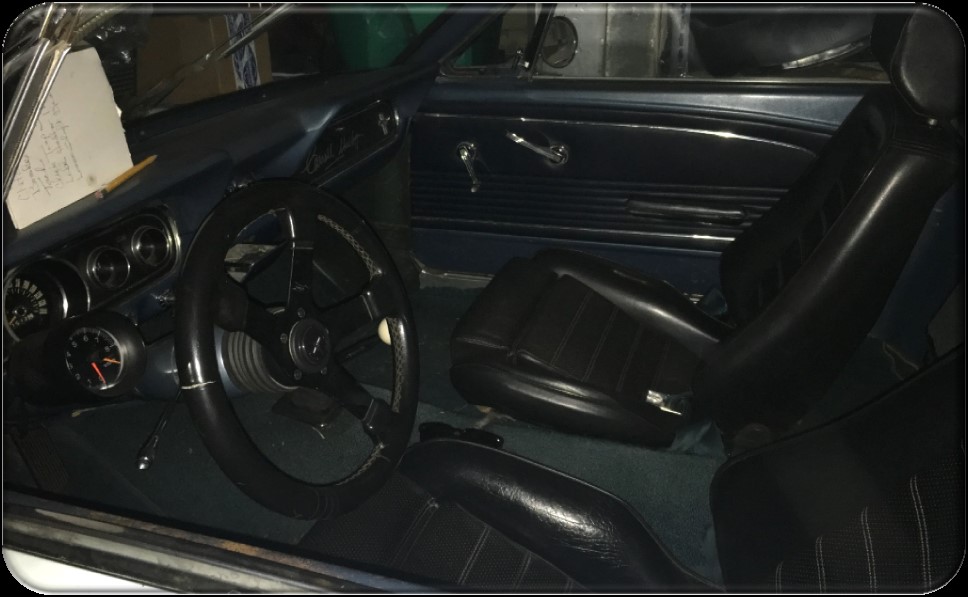 ·
Fabricated Subframe connectors
·
DIY Hydraulic Clutch system
·
Tremec TKO 5 speed with 10.5" Spec Stage I clutch and scatter-shield
·
In order to keep the original carpet and shift boot unmolested, which was important to me! I need an unmolested transmission hump so I lowered the motor 1" and moved It ½" rearward to put the Tremec shifter right in the sweet spot. This also gave me stockish drive angles
·
Fabricated motor mounts to relocate the motor – Ron Morris style with leaf spring rubber
·
Fabricated Transmission crossmember that ties both subframes together solidly with clearance for dual exhaust and facilities for the original emergency brake gizmos
·
Cut off the old Hurst Comp Plus shifter lever and grafted it, quite shortened, to the TKO for old school Hurst look – even kept the original toploader white ball
·
Fabricated Watts Link with room for 2 ½' mandrel bent exhaust out the back and rubberized mount for Red Holley Electric Fuel pump and large fuel filter.
·
Battery relocation
·
.685" diameter "big block" front springs, GW 5 leaf with the front leafs clamped together
·
2.5" Mandrel bent exhaust; from headers to 2" past the rear valance to eliminate the drone. Added cross over, looks pretty DIY ;o) but very functional
·
225-50-16s on 8" rims – since the 9" was narrowed 2", the rears are deep dish old school look
·
Boxed and fortified the 9" leaf spring mount plates
·
Custom fabricated dual - dual exhaust tips sliced green-bean style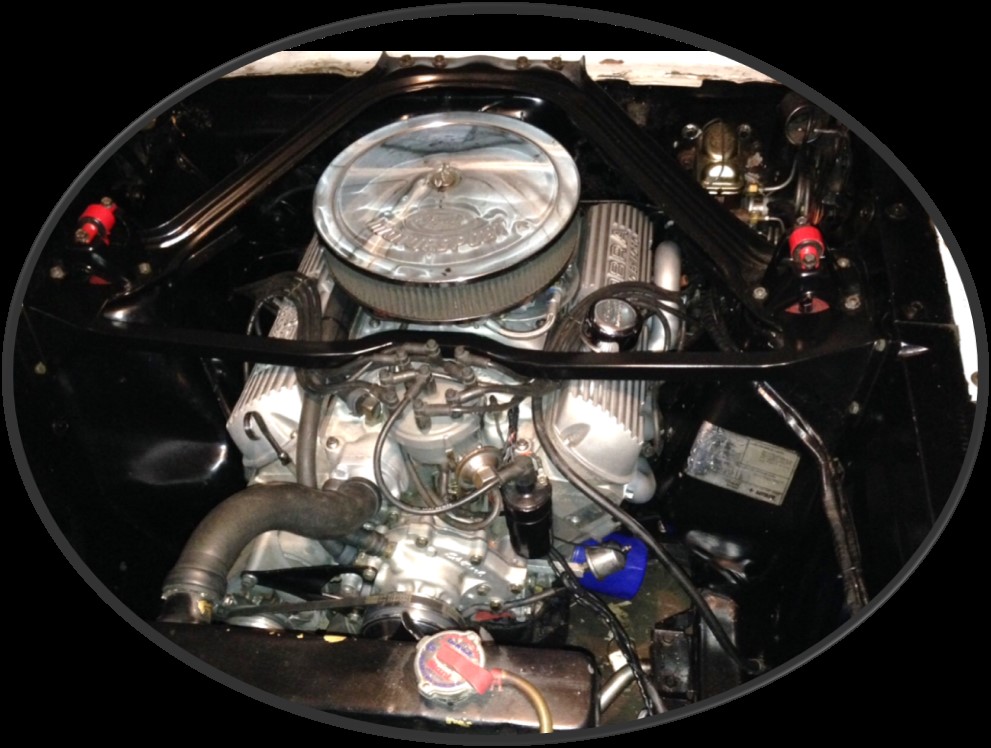 While my plan was a hi-gloss resto-mod, as my army buddies say, plans never survive first contact. Once I started driving the car, I just fell in love with the way the it looks and feels. I lost all desire to restore it, in-fact, I have gone to great lengths to keep every part that came from the factory on the car. Put new brushes in motors, rebuilt switches, hinges including replacing only the rubber blade portion of the wipers. With all the original Jute insulation, cardboard glove box etc and firewall layers preserved in the optimal California climate, the car rides quietly, notwithstanding the Flowmasters, with a quality befitting an original car. People always ask if I'm gonna restore and the answer is always; "I like it the way it is". They usually cut a lap and end up agreeing she is just a cool car as is.
The exterior and interior are nominally the same as the day I purchased it with 20+ years of character added to it. Perfect worry-free muscle car for a family raising 3 active kids, it absorbed bicycles banging into it, kids playing hot rod driver and climbing all over it like a playground fixture. Its worry free in parking lots, goes like stink, handles like a dream and can drive 2 hours to the track, get slammed all day and drive home reliably (notably, a Bay Area trip to the track usually meant 1.5 hours in bumper to bumper traffic at 85-90 degrees on the way home) – for 20+ years now…
In terms of how she drives, I think this updated excerpt out of Autocross Primer thread I wrote a couple of years ago best describes it:
In my case it's a modest mid-range 400 horsepower 351 Cubic Inch Windsor that wakes up the Flowmasters. Heads turn – I pretend not to notice. I let the cam do the talking as we rumble toward the grid. Waiting for my turn seems to take forever but finally the flag drops and Old Blue launches into the worm-hole with an impressive roar. She squats on her haunches out the chute weighting the rear wheels helping them claw at tarmac. If there is any room to breathe, she comes alive thrusting the seat of your pants with an urgency that hurdles you as hard as you dare toward the next challenge in the Gauntlet. The pedal stays in the carpet cheating each-and-every microsecond till you flinch and mash the brakes artfully shifting weight forward setting the front tires to carve deeply into the corner. Now you ride the rear tires with the throttle pivoting her through the corner as the weight equalizes front to rear heading toward the exit of the corner where you itch to get the pedal into the carpet again. As each turn unwinds you feel the rear tires gaining traction which you neutralize with a little more throttle subtly edging weight rearward again while keeping the tires right on the hairy edge till you're are back deep in the pile again. Fun doesn't begin to describe the sensation. The finish line looms large as the pedal hits the floor one last time lighting off 8 thunderous cylinders to roar in glorious harmony sling-shotting you through the timing gates climaxing a massively righteous adrenaline rush…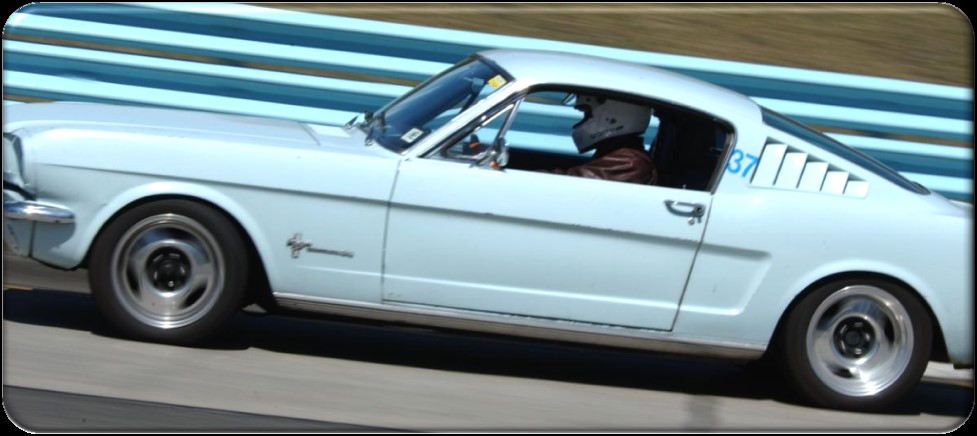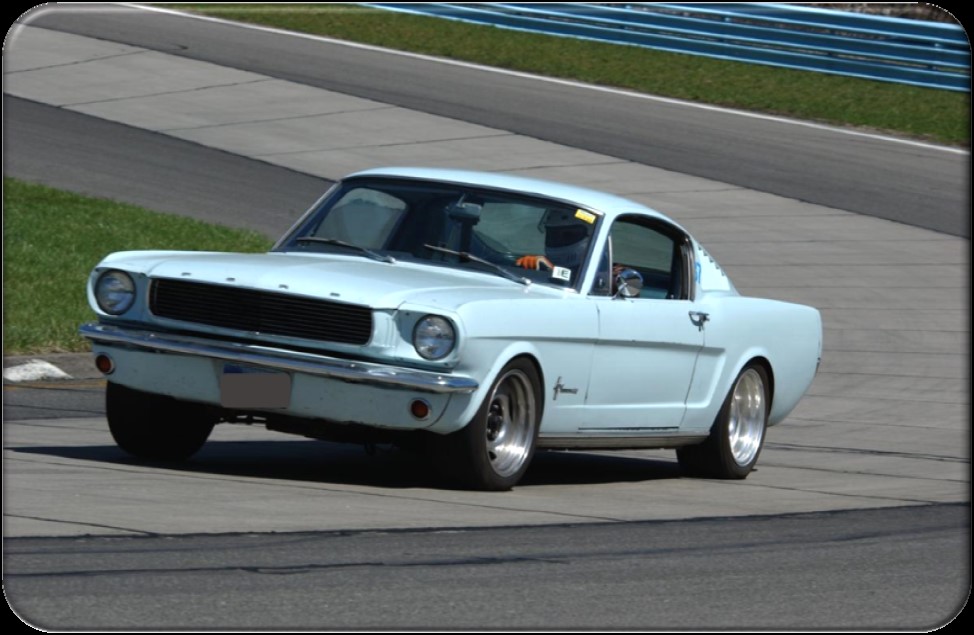 On the 50th anniversary of something Shelby in the late '90s, Carol came to Sears Point for a "Shelby American" track day. For $20 donation to his charity, he would sign 2 things. My buddy and I got in line and just before we got to Carol, who was obviously having fun and very chatty, my run group was called. I handed my glove box lid to my buddies' smok'n hot girlfriend sporting a well-appointed tube-top. She gets up to Carol and the story goes:
This is for my friend
Carol: where is he?
He is out on the track right now
Carol: …is he gonna win?
He's just hav'n fun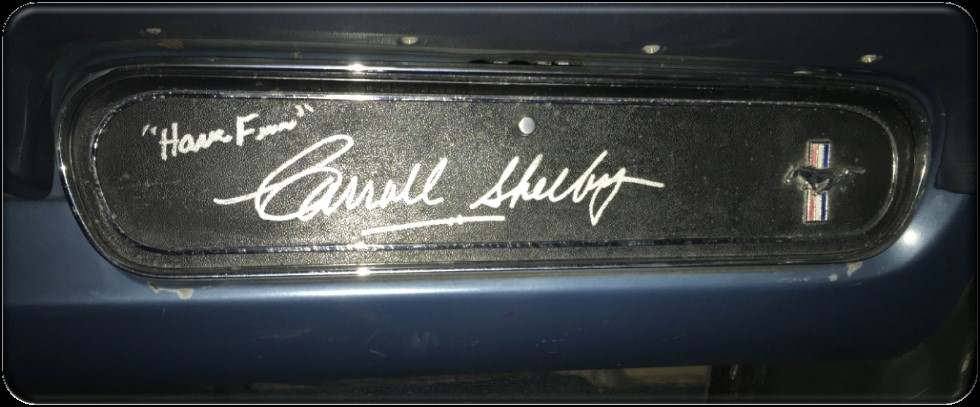 I have had some 50+ cars, boats and motorcycles in my life; Vintage, British, European, American, fast, land yachts, Jags, Hudsons, Benz, Vintage Harleys and Indians, Hi-power street bikes – ski boats, large live-aboard sailboats – you name it... I have had more fun in this old Mustang than any other vehicle I have ever owned with the possible exception of a 1947 Indian Chief custom I built when I was 17 and rode for the crap out of. This Fun is divided evenly between innovation and fabrication and sport driving although to be honest, I have fun just driving her to the store.
She's been a part of the family from being in my wedding ceremony to raising 3 kids with trips to baseball, soccer and dance including ice cream afterwards. Kids jumping up and down saying; "can we take the Mustang" always put a smile on my face. My little secret was that it was mostly about the "eat your heart out" message to the other dads ;o). My oldest grew up "helping me" including our yearly ritual of waking the Mustang after winter hibernation with High 5s and grins. He finally drove Old Blue through the Upstate hills 2 years ago with a huge ear-to-ear grin the entire time, especially when I told him to; "
light it up
"…