Discussion Starter
•
#1
•
I know...I know...late again. I have too many irons in the fire right now. Anyway, I selected a fairly new member this month to share the story of his car. Enjoyable read as it is close to my heart of my first car being my '65 Fastback which I drove through high school and some of college.
I was born too late! In April of 1964, my Dad was 16 and saw the premier of the Ford Mustang on TV and saw the ads in the local newspaper for the cars we have come to love so much. Mustangs found their way to driveways in our home town, and to the school parking lot. One of them was a friend's Poppy Red fastback with a 289 and 4 speed he still smiles about if you bring it up. He and my Mom graduated high school in 1966, and my brother was born first. When I came along, I got to play with hand-me-down toys, and the greatest of these was a red '65 Mustang pedal car. I loved it then and I still do. As a child, I could recognize a Mustang before any other car. Our bathtub in my childhood home had a side sculpture to it that was just like the side of a 65-66 Mustang, clever marketing I'm sure, and I often pretended to drive a Mustang at bath time. Vvvroom!!
When I was a little older, many of the model cars I bought and assembled with sticky fingers were Mustangs and I still have some of those. I had wheels in my head...any time Dad worked on our cars I wanted to be right in the way. "Hold the light, son...hand me that wrench...hold the light!!.." I read Motors and Chilton books for information, paying special attention to the section that had pictures of the Mustang grilles and headlight arrangements from 1964 through the early 70s. Dad bought me my first Mustang book. Mom got me a subscription to Mustang and Fords Magazine.
When I was 15, I waited for the school bus and got passed every single day by my neighbor driving to the very same school in his 66 Vintage Burgundy coupe with Deluxe Parchment interior, 289, auto, console, AC and power steering, and dual exhaust that just gut-punched me every time he went by. I loved that car, and he never offered me a ride. Not once. It was torture.
When it was time to look for my first set of wheels, I test drove all kinds of things that just weren't Mustangs. I had a cousin that attended church with us, selling his grey 66 coupe with a 289 and 3 speed. It was a mess. Would have been better than no Mustang, but I'm glad I waited...
One January day after school, I was told about a funny-colored Mustang driven by an older gentleman in town with a For Sale sign in the back window. I made the call and he lived very close, and my Mom drove me over to look at it.
I saw the car and I KNEW…THIS WAS THE ONE !
The gentleman clenched a pipe in his teeth and told me about this 1966 Mustang coupe with its 289 V8, automatic transmission, and the few things he had done to freshen it up, but it was very original and "solid as a dollar." I wasn't so sure about the dollar after my Government and Economics classes, but the Mustang was IMMACULATE. I walked around its flawless Tahoe Turquoise body, crawled under its rock-solid red oxide belly, opened the long hood to find the faded Ford Blue V8 and air cleaner I had seen in the books and magazines, opened the trunk to find the neatly-tucked spare, jack, and handle on the very-1960s plaid mat. It even had a Rotunda trailer hitch!
And then, I sat inside. I wanted that moment to last forever. The smells of the vinyl, carpet, the heater, and just a hint of the old man's pipe tobacco. Inside the glove box was the original owner manual and title. But the next moment was even better.
I turned the key and the 289 sprang to life, and even with the single exhaust and transverse muffler the eight cylinders commanded respect. I slipped the car into gear, and I still remember the soft whine of first gear in the C4 until the smooth shift to second and third, as I took my first ride - my first DRIVE - in a vintage Mustang. I tooled down the street and around the gentleman's neighborhood in a country club community, and got smiles and waves from ladies walking after a tennis game. The weather was beautiful, and the gold of the late afternoon sun shined on that Mustang like a 1960s TV commercial spotlight. I was SOLD. But were my parents?
I had saved a little at my first job at a gas station (I saw lots of cars!) but I needed Mom and Dad on the same page. Mom was good to go. Dad? It took some convincing, but he finally caved and a deal was struck. A couple days later, my grandmother drove me over with a check. I was the happiest kid in the world. I drove to the nearest gas station, with a twist of the storied Mustang cap I put my first $5 gas in, and I rode the little Mustang home. I had MY FIRST CAR.
I drove the Mustang to high school, to work, to dates (the automatic lets you gold her hand), to play my guitar all around, I took my grandmothers shopping, moved to college, won a couple of trophies at car shows, drove a little too fast sometimes, my wife and I left our wedding in it, and I have taken my kids for rides in the Mustang since just after birth. I drive it at least a couple days a week, to cruise-ins and the occasional parade. We all went to dinner in it tonight. It truly is THE family car!
The car is still Tahoe Turquoise with standard Aqua and Turquoise interior, and I like that with the camera-case black. It has the Visibility Group with tinted glass, banded windshield, two-speed wipers with washer, Day-Nite mirror, and remote driver mirror. I eventually Magnafluxed, machined, balanced, ported, valved and cammed the original 289 and C4, but added the dealer-available 4V intake and 1.08 Autolite 4100 carb, and re-curved the distributor. As the years have gone by, I have had one re-paint (now it's due for another), replaced the windshield with CarLite glass, restored the interior, the suspension with polyurethane bushings and Shelby-style Gabriel Stryder shocks, and upgraded to Kelsey-Hayes disc brakes and a mandrel dual exhaust. I restored an original Rally Pac, and I also happened upon a complete and near-mint original aqua console.
I learned more about original Ford and Rotunda dealer accessories, and so far I've added what I think are tasteful mods:
•original set of five '66 Styled Steel wheels
•deluxe seatbelts with retractors and lamp
•Studiosonic reverb with rear speaker
•headlamps-on warning buzzer
•throttle control •rear defogger
•parking brake warning lamp
•accessory door sill plates
•cigarette lighter-map light
•windshield washer reserve
•underhood and trunk lamps
•retractable trouble lamp
•junior tissue dispenser
•remote trunk release
•locking glove box
•rear arm rests
•ash tray lamp
•AM/FM radio
•original 1966 Mustang dealer brochure, accessories catalog and matchbook
•Rotunda lighted compass and a litter basket
•Rotunda pre-67 frameless vanity mirrors on the back of the sun visors
I like the classic stuff. If it was good enough for Ford, it's okay by me! It's MyFirstCar, and I hope it will be my last. In the meantime, I have begun restoring a 66 Emberglo 289-2V auto coupe with deluxe Emberglo/Parchment interior, power steering and dealer AC car with my older son. He's learning to drive in his first car! To be fair, I kept my eye open and found a 66 Nightmist Blue coupe to restore with his little brother, also 289-2V auto with deluxe Blue/White interior, power steering and factory AC, but it'll have to wait a little while. He's just 11! All three were Metuchen plant cars built about a month apart. Now all three are registered with original 1966 license plates from our home county, and I hope they'll enjoy them all their lives.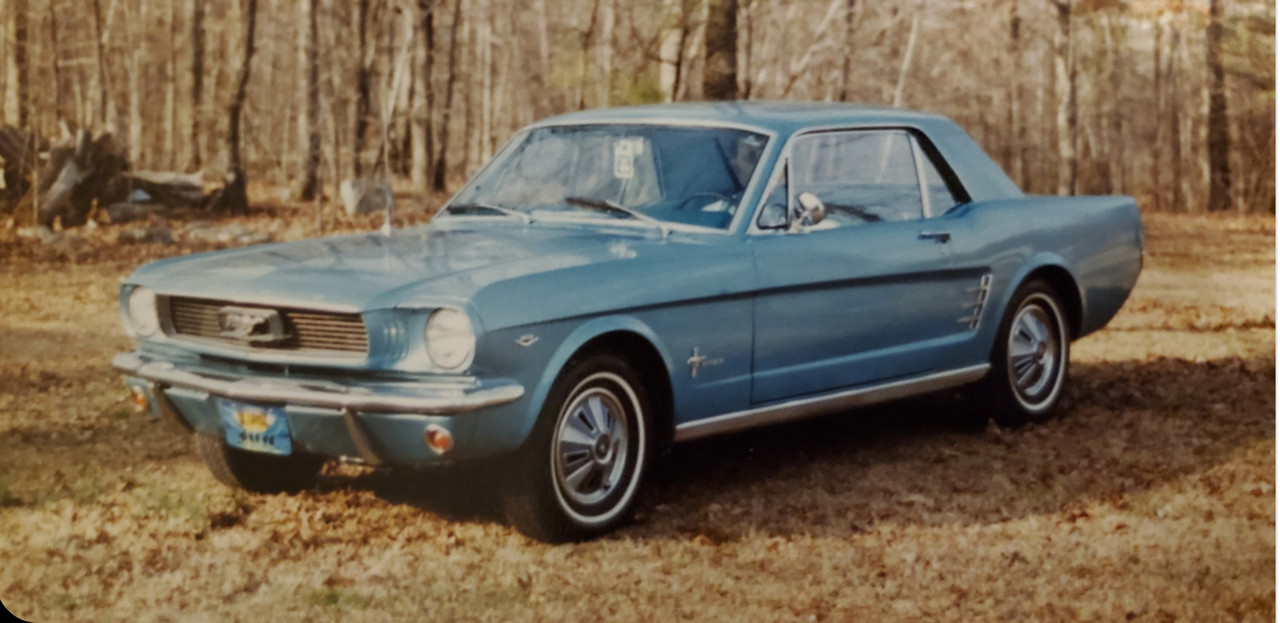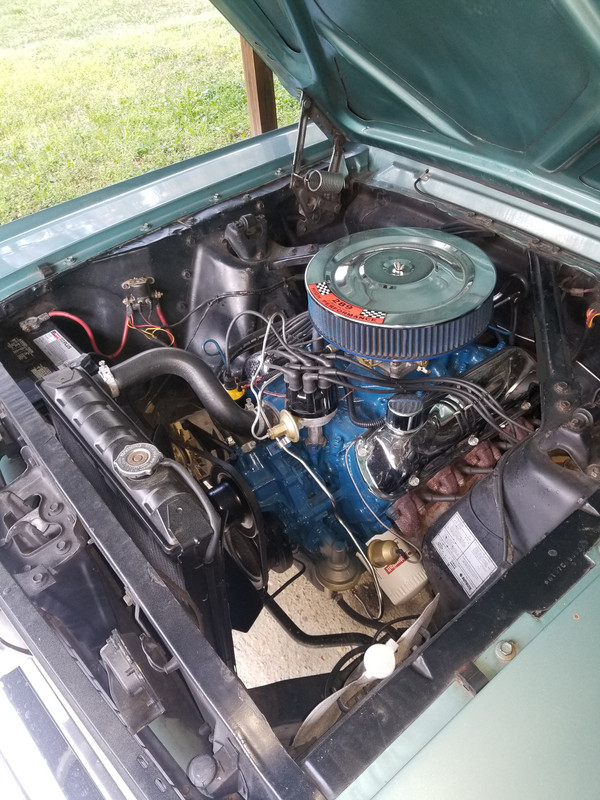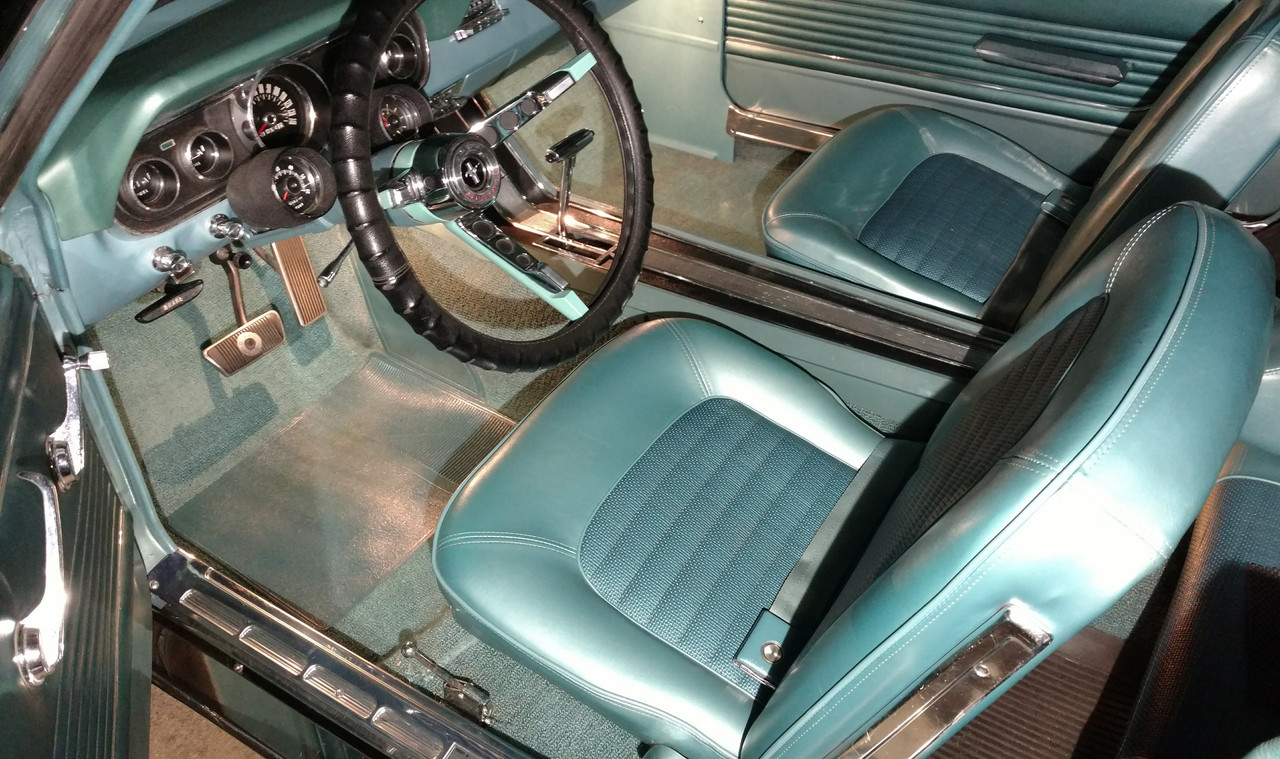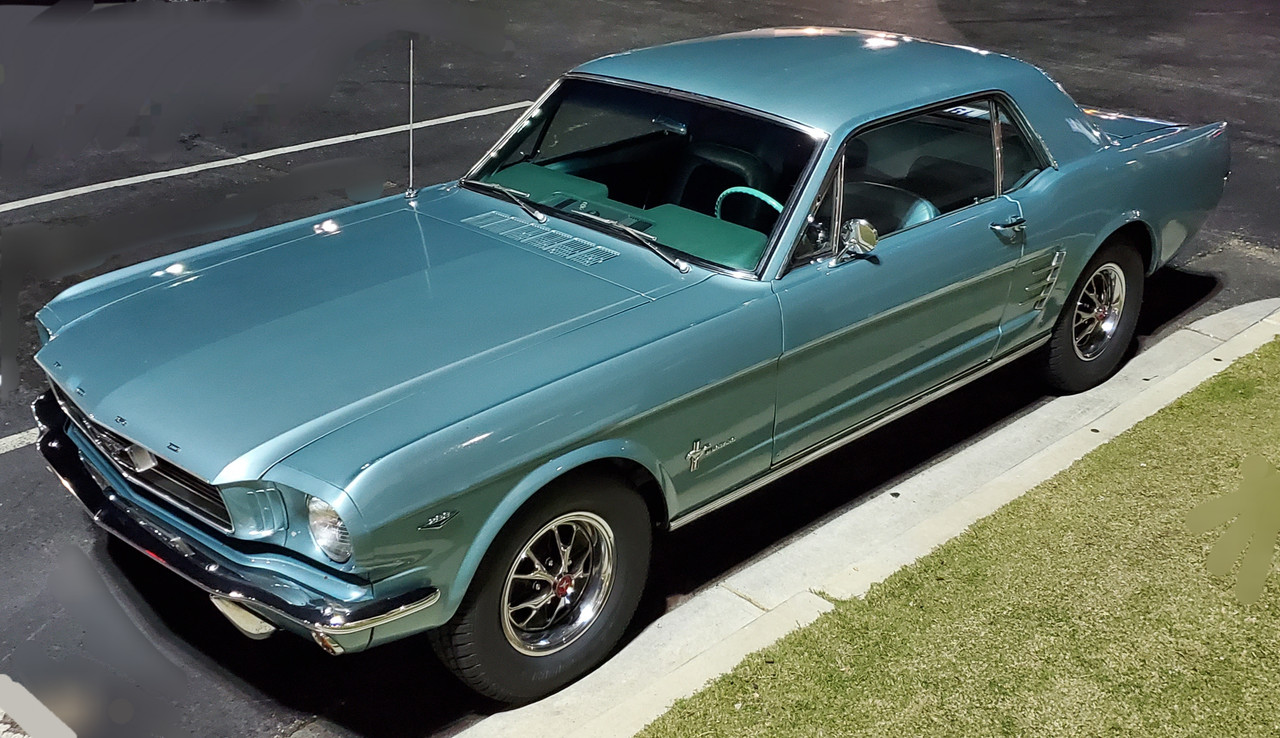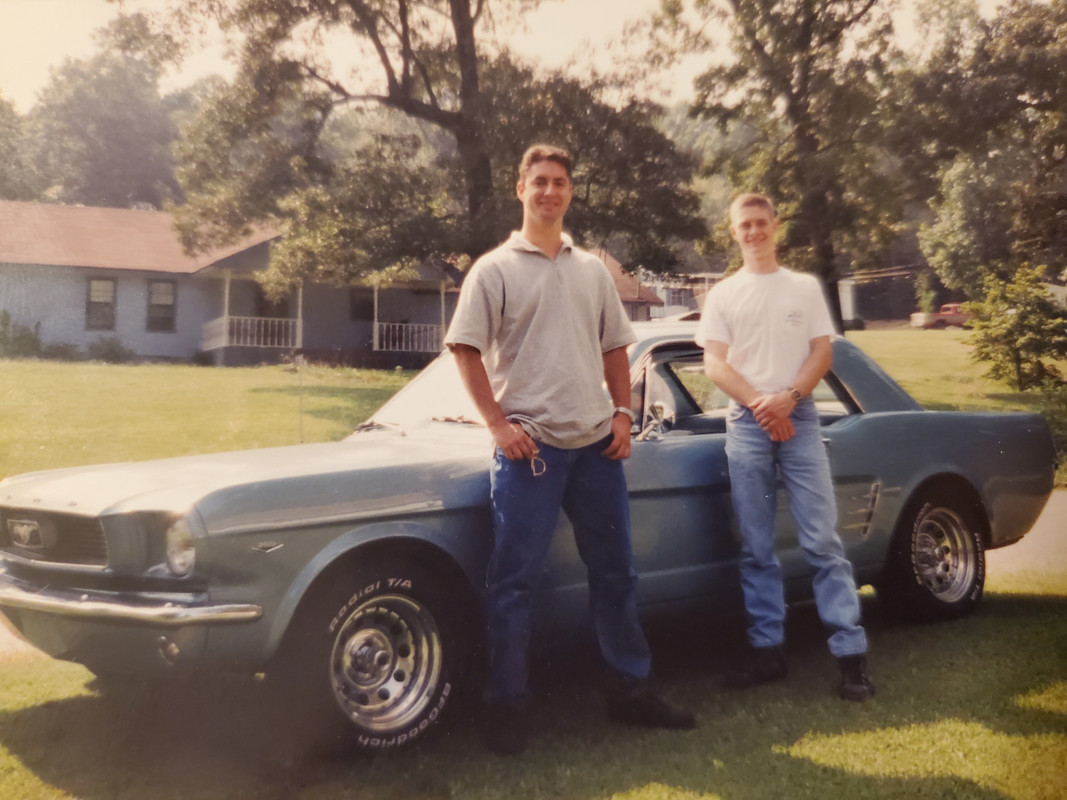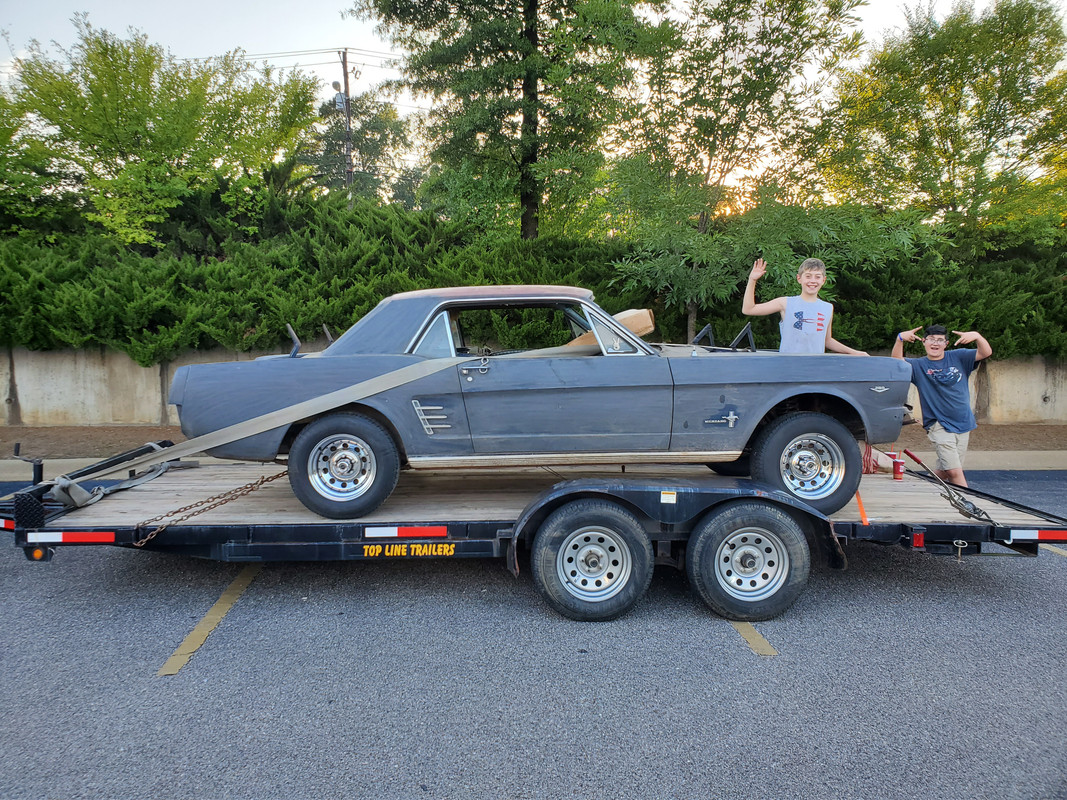 https://i.postimg.cc/KYP8c8Dv/20190515-030144.jpg