After researching each step for months, contacting vendors and manufacturers, and trying a few combinations, here is what I arrived at for my 65 mustang front suspension build. I post this here to share back to those who's comments have helped me along the way and also because I have not found anyone online with this exact configuration so I thought that I would share the results.
My goal was a road hugger that sits with 1/4-1/2" inch space between fender and tire on front and back respectively. Currently new tires are not in the budget, so I am working with 15 year old Yokohama P225-60R15 95H on both front and rear (As of 4/5/2019 tires are now BFGoodrich Radial T/A E4 - P 225 /60 R15 95S SL RWL) . While there are many products available my goal was for a good street performing car with additions that I was able to install without having to pay for work or unnecessary parts in order to keep costs in check. Directionally I followed much of the advice from John at OpenTracker, but not on every point. In one of my original emails to John he provided a starting point stating:
"The 5 mods we start with are a larger front sway bar, the Bilstien shocks, the roller perches and roller idler arm and we change the alignment settings from the factory settings to a performance alignment. We make these 5 changes to all of the cars, no matter what the use. After that, we channel the mods towards the goal and use of the car."
I already had the front sway bar installed and have a rack and pinion power steering unit installed, so no idler arm is in play, thus only 3 missing items. I did also have original springs and a front and back mismatched set of shocks, so I was back up to 4.
On the cost front I wanted to apply changes that would make a difference and leave me with a car that is fun to drive and navigates free of wheel rub; function over form (excessive drop is not worth an annoying wheel rub on corners). Anything that seemed unnecessary or extra fancy was out of budget (tubular upper control arms). Also, I sourced parts from locations, in group packages, and at times to take advance of rebates.
What was installed
(with source and notes)
1.
1" Arning/Shelby drop for improved handling
Source:
Arning Shelby Suspension Drop.pdf
Notes: Drops car 5/8"
2.
OpenTracker Roller spring perches
P/N: ORP-1001
Source:
Opentracker Roller Spring Perches
Notes: These are a very popular upgrade and after removing my original perches I can see why they exist. The seals on the originals where completely shot and didn't rotate at all.
3.
Moog upper ball joint
P/N: K8036
DRiV Incorporated
Source:
https://www.oreillyauto.com
Notes: One of the original ball joint seals was shot so I replaced both. Removing the ball joints required careful/slow grinding of rivet heads to then punch out rivets which I found was easier with UCA removed from car.
4.
Eibach Progressive Rate Springs
P/N: 1135-1099 (P/N printed on spring is 3564.001)
Source:
1135 1099 - Koni Special Series Suspension Kit - Race Consulting Agency - PARTS | KNOWLEDGE | PASSION
Notes: Drops car 1". OpenTracker advises against progressive rate springs, instead preferring constant rate springs to keep the ride experience predictable. While this makes sense to me and I thought about this one a lot anstill went with what I know from other Mustang installations. Spring rate is 400-520 lb progressive rate, which is softer than the popular 620# springs, however the perch move (#8) makes the effective rate similar.
Original spring with Eibach progressive rate above.
5.
Koni Special D Classic Red Shocks
P/N: 1135-1099 (Purchased as kit)
Source:
1135 1099 - Koni Special Series Suspension Kit - Race Consulting Agency - PARTS | KNOWLEDGE | PASSION
Notes: I wanted to go with something close to what the original Shelby had and also like the adjustable option and Koni carries a lifetime warranty. OpenTracker prefers Bilstein which are reported to have a more modern valving system.
6.
Global West 1/2" Spring Spacer
P/N: 2011
Source:
1964-1973 Mustang ½ Inch Front Coil Spring Spacer Global West Suspension
Notes: Provides 1" lift at the wheel. I wanted a reasonably priced solid form option with a shoulder to "lock in" the spring location. These are installed without the original rubber dampers, which don't fit inside the spacer.
7.
Reworked the Upper Control arms including Control Arm centering (OpenTrackerRacing)
Notes: This work was performed based on a tip from John at OpenTrackerRacing mentioning that sometimes the position of the shaft is not centered from the factory. I decided to check this since I was also experiencing wheel rub. John stated: "You would measure from the center of the head of the bolt over to the control arm frame. For the 65-66 cars, it should be 1-7/8".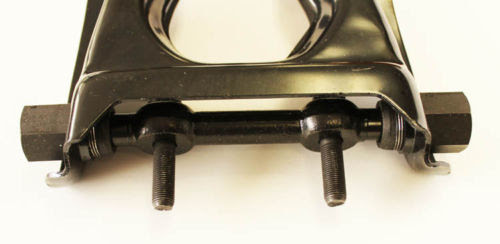 "Here is a photo showing the shaft offset to the right. To correct this, I would remove the bolts, spine the shaft to center it and put the bolts back in. The bolts have a swedge/knerls that keeps them in place. I knock the bolts out with a brass or copper hammer so I don't mess up the threads."
Complete disassemble and re-center of mounting shaft between threaded end caps (requires mounting bolt removal without damaging threads), tighten end caps just until tension is felt in shaft rotation then lock off end caps with Red Loctite. John uses a more permanent locking method in the prebuilt arms he sells. In performing this work I found that one of my upper control arm ring bolts was off center by a half rotation. My end caps already had angled zerk grease fittings installed, however I did find that I had to be careful how much grease was installed as over filling would cause the seals to bulge when end caps were tightened down. I re-Installed new Grade 8 fiber nut and washer in place of lock washer for a slight modernization.
8.
1" Spring Perch Move
Source:
New Stuff for Old Cars - Opentracker Racing Products
(scroll down page)
1" Spring Perch Move Template - Opentracker Racing Products
Notes: Provides ½" lift at the wheel and increases spring rate 100 lb. When drilling new holes, I found that a 3/8" drill for mounting hole fit perfect even though this is actually smaller than the original factory hole. Opentracker perches come with new fiber nut and bolt (of a more fine thread than original). This modification can be made with the the UCA on the car with a 90 degree angle on the drill. Note: This change is not pictured above.
9.
OpenTrackerRacing Alignment specs
Source:
Tech Information - Opentracker Racing Products
Notes: By comparison the OpenTracker alignment settings are similar to the print out found here:
DazeCars, Shelby Drop, Klaus Arning drop, upper control arm drop, Falcon, Mustang, Cougar 60-70
I was lucky to find a Firestone shop in north Austin TX area that still does shim adjustments, using the specs I provided, sitting on a modern rack.
Car Tires & Repair at 5145 Ranch Rd 620 N Bldg E in Austin, TX | Firestone Complete Auto Care
Why
Having installed the Eibach Sportline/Koni Orange combination on two more modern Mustangs (2008 CS & 2013 V6) and really liking the feel of the ride, I decided to try and replicate on my classic mustang. Also, I like the history of the Koni Reds on the original Shelby mustang even though I know others would say that Bilstein's are better. Apparently the Koni Reds can also be revalved to match springs rates (Example: MaecoMotorsports SP3-RR – which are revalved for racing applications), but this was out of budget for now. Starting here, my other decisions were made to make necessary repairs (ball joints) and to arrive at the correct ride height (spacer and perch move).
How
Removal of the Upper Control Arm (UCA) was necessary to perform the axle centering step. While removed I replaced the ball joints and spring perches which were installed in new holes located 1" outboard of original location. Make sure to check first to see if your model of UCA will physically support this new location (see the OpenTracker posting). Also when removing if alignment shims were installed previous keep careful track of the locations.
Spring compression
The right advice and tools make all the difference in the world! For tools another VMFer
@Kelly_H
me out here by lending me these two beautiful tools. OTC 7045B Front Coil Spring Compressor & 1-1/4" 12 point ratcheting combination wrench (Husky P/N HRW1I14). I went through the spring compression process many times and these were a life saver! Some advise was also offered here in that removing the spring covers takes a little more time, but in the long run saves time. I tried it both ways and cover removal is the way to go for sure.
Most of the decisions made here were through online research. The one external and consistent voice of assistance came from John at OpenTracker Racing Products
[email protected]
. About 30 emails later I can say that John's support is simply amazing and completely answered all of my questions sent to email in a few days offering open support and a willingness to go above and beyond with additional guidance, free of change. I am already talking to John about rear suspension which is next up on the list. VMFers support this AMAZING partner whenever possible!
Koni Red Shock Adjustment (OpenTracker)
With adjustable shocks the question is where to start with this adjustment? To begin I mentioned my experience with installation and driving Koni Orange which is the newer Orange (STR.T) model and is apparently similar to a red on a middle setting.
"Rear shocks on our car are just 1/4 turn from full soft on the rear and about 1/4 to 1/3 of the range, near the middle of the adjustment up front. Close to half way between soft and firm up front, 1/4 turn from soft in the rear." – John
With the complete range of the Koni Red shock being 2 ¾ turns from soft to firm, I went with 1-1/3 turns from full soft on front and 1/4 turn from full soft in the rear.
Koni Classic Red adjustment direction: looking down shock shaft with larger reservoir pointing away from you Clockwise = Firmer & Counter Clockwise = Softer
Koni Sticker Location
The Classic Red shocks come with the classic sticker which I installed in a similar location to the originals. This location was apparently not consistent from the factory, so I got them close to original. Here is a look at locations:
Virginia Classic Mustang Blog: Just the Details...1966 Shelby GT350 Restoration and Koni Shocks
Also note that the stickers are often smashed in the box during shipping and a little heat from a warm iron can help to straighten them out prior to installation.
Hardware
When sourcing hardware I have found that given my local options Lowe's has better options than Home Depot for grade 8, special (like unusual thread spacing), and stainless bolts.
Rebates
Eibach has rebates two times a year March - May, August - Oct, so if you time it right and are willing to do a little extra paperwork you can hit one of these rebates to save a little on the shocks and springs.
In the end I ended up with my goal on the front suspension feeling like the other two mustangs a drove. Suspension leaves enough room so that wheel rub is a non-issue and the ride is firm and feels stable and connected to the road. I am very happy with the result which has made the car a blast to drive!
Ride Height Pictures
I'm posing a picture of the result on the front drivers side, though my ride height is not complete with the rear still needing new springs to replace the sagging original left rear. My right rear spring is high, actually causing the left front to be slightly lower than level. I will post a full profile once rear is addressed, however I am shooting for the front to look like the posting from Rudi Marczi or Steve Wilkes with a little clearance above each tire sitting in the well here:
Mustang Ride Height Pictures and Descriptions | MustangSteve.com
Here is the result: