Discussion Starter
•
#1
•
Hello, I have been lurking here for a few months but decided it's time to get some opinions and questions answered so I better introduce myself. This is a great forum!!
Bought a 66 convertible this past March and have been tearing it down ever since. Nothing special about this car from a VIN standpoint.
Specs as purchased:
Original V6 "T" code but had a 302 motor, .030 over (did not know this at the time). Motor was in bad shape, never tried to start it.
Color = Q7 – Brittany Blue (a 1967 color used on some late 1966 models). Paint looks original to me
C4 transmission and 2.8:1 open rear diff
Trailer Hitch! (since removed as it was just….weird)
Date Built - 08V– 8/8/66, very WEIRD coincidence, my daughter's birthday is 8/8/99. Must be destined for her! She said it was her "dream car" even before I had researched the build date.
Very minimal rust and a very straight body (the most attractive feature to me)
Fast forward 3 months and the front half of the car is down to bare metal, the interior stripped and the machine work done on the block.
Plans for my "driver" restoration: (with all work to be done by my 14 year old son and I except machine work, body and paint and probably the convertible top)
.040 block with all new short block parts, still deciding on heads and other odds and ends
All new front suspension and new/rebuilt power steering
Front disc brake upgrade and new drum brakes in rear
Possibly new rear gears and posi
All new interior, convertible top, and re-wire entire car
Body and paint by a yet to be determined shop
A few other odds and ends I have not thought about yet…..
A fun project so far.:grin2: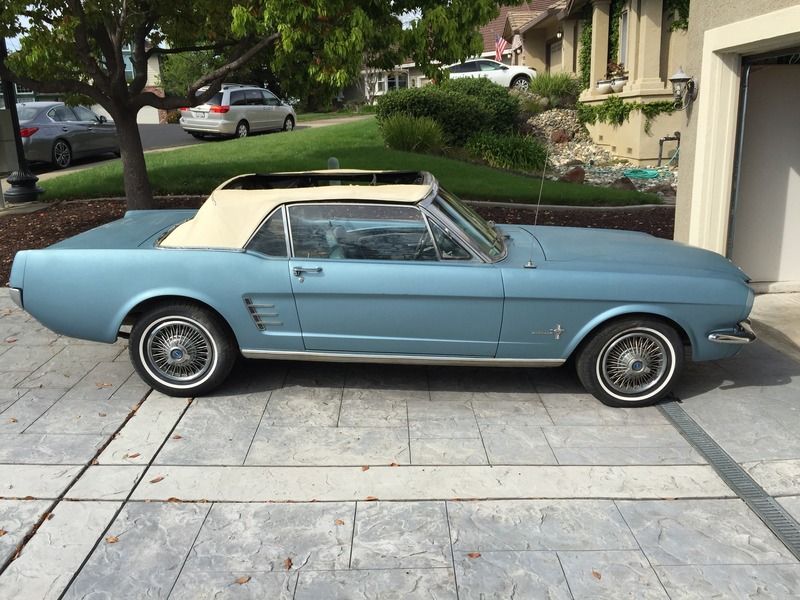 Fresh off the tow truck