Discussion Starter
•
#1
•
This is a thread on a simple trunk mount battery box. One of the problems with mounting a battery in the trunk is that a simple tray that you can buy at most auto parts stores will not pass tech at most racetracks because the battery needs to be in some kind of a box. A simple marine type battery box will not pass either because it is plastic. My solution is a simple steel bracket that combines with the marine box to give you a simple, cheap safe method of mounting your battery in the trunk or a remote location. This assembly has passed tech as NHRA strips, as well as circle track, mudd bog, hill climb and countless other types of motorsports over the years. If you don't race your car, you can omit the plastic box and use the bracket alone.
You will need a few tools to build this:
-Some way to cut metal- a hacksaw will do, but a chopsaw is better.
-Drill or drill press.
-Welder, a 110 volt welder will do fine.
Here is a materials list:
-30" of 1" x 1" x 1/8" angle iron.
-30" of 3/4" x 1/8" flat steel.
-6" of 1/2" square tubing.
-8-3/8"-16 grade 5 bolts.
-4-3/8-16 nylon lock nuts.
-2-3/8"-16 high nuts.
-Four 3/8" large diameter fender washers.
-1-Plastic marine type battery box.
-I bought the steel out of the scrap bin at of my local metal supplier for $7.50.
-The bolts and nuts were $2.00 at a hardware store.
-The battery box was $8.00 at Wal-mart.
Two pieces of angle iron are cut to 14" in length. I cut them at a 45 degree angle because it looks better. A 3/8" hole is drilled at the end of each piece of angle iron to bolt the bracket down to the trunk floor. The angle pieces are squared up to each other, and a cross piece of 3/4" flat steel is cut to the outside width of the plastic battery box, and everything is welded up:
Two pieces of 3/4" flat steel are cut to 6" in length, and a 1" long 3/8-16 bolt is welded to the end of each piece of flat steel. The uprights are then centered on the base of the bracket and welded 90 degrees to the bottom of the bracket on each side:
Two small pieces of 1 1/4" long 3/4" flat steel are cut and a hole is drilled 1/2" from the end of each piece. These two pieces are welded to a piece of 1/2" square tubing which will serve as the cross bar:
The high nuts are then threaded onto each of the "studs" on the uprights. The high nuts have 1" of thread that will provide adjustability for any battery. Two 1" long 3/8" bolts bolt the cross bar to the high nuts. The crossbar can also be flipped over to provide another 1/2" of adjustability either way:
The box and the lid are both notched for the cross bar to clear, I use a pair of tin snips: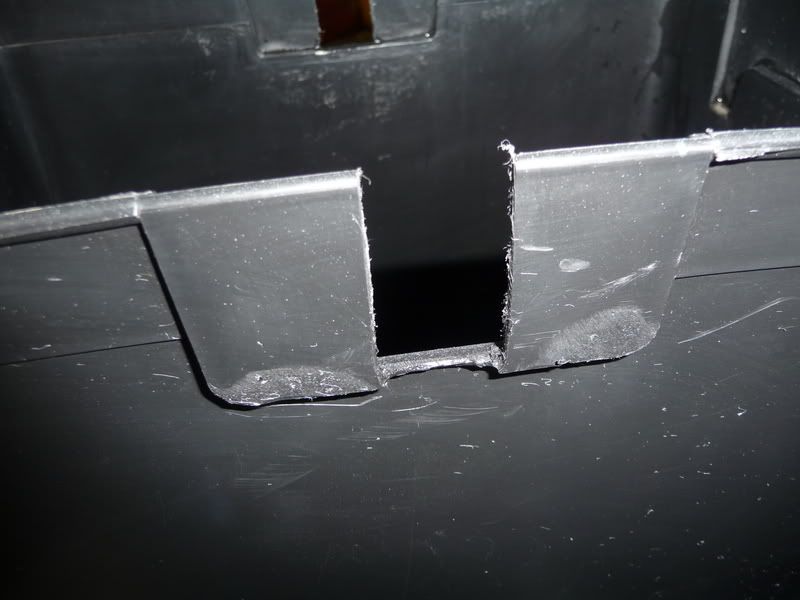 The battery box is placed on the bracket, the battery is set in the box, and the cross bar is bolted down: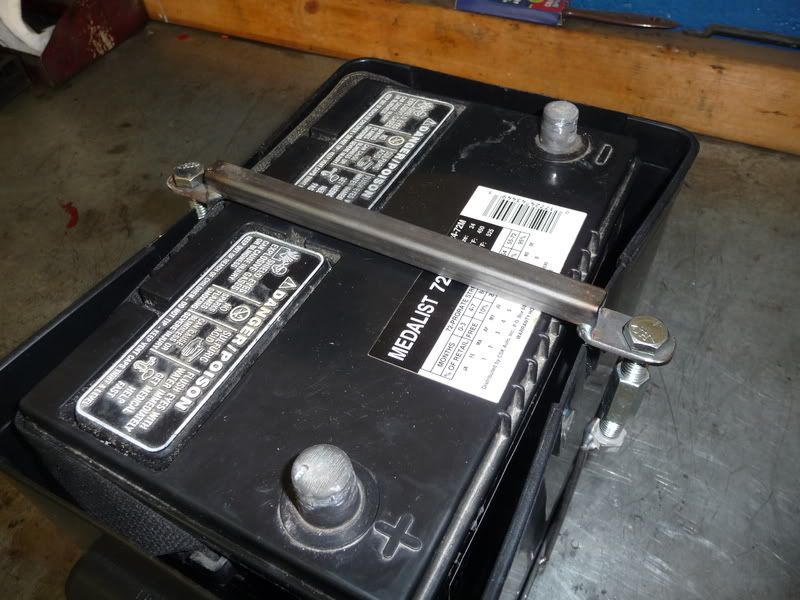 The lid is set on top and the assembly is complete. The lid is held down with the nylon strap that comes with the box. Four 3/8" holes are drilled in the trunk floor, and the bracket is bolted in place using the remaining 3/8" bolts with the fender washers and locknuts on the bottom: