1966 Mustang HT, 302, GT40P, C9OX intake, rattler cam, hipo manifolds, 4r70w
Discussion Starter
·
#1
·
Hi guys,
since this is not a vintage Mustang build I checked this part of the forum and saw other non Mustang builds here so I hope I´m gonna be fine here?
The car is still in progress so I think this qualifies it for the build-forum.
About the car: It is a 1966 Mercedes Benz 200, aka fintail. What makes it special is that this car is a hearse built by Pollmann in Bremen, Germany.
The car was delivered from the Mercedes assembly line in Stuttgart to the Pollmann body shop as a partial mounted car (things that were not needed were not part of it e.g. the rear doors, trunk lid, roof skin).
Pollmann then built the rest of the car to customer specs.
The car is elongated though the wheel base was kept original. Allt the extra length is added befind the rear axle.
Here are some pics from when I got the car: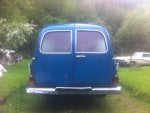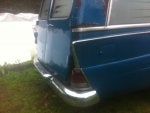 For those of you who might be familar with these old Mercedes fintails and think it is an W111 chassis you are wrong: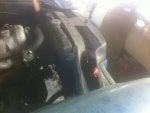 This car is a W110. The guys at Pollman installed a second radiator support in front of the original so that the longer fenders from the W111 sedan and the W111 hood could be installed?
Why? To add the premium look of a 6-Cylinder S-Class fintail to the smaller 4-cylinder fintail series. A hearse is still a commercial car, a 4 cylinder gasoline engine offered more than enough power at a time where most people drove Volkswagens.
As you can see, the engine bay carries only a four cylinder engine: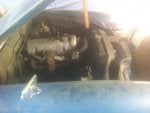 in this case, it is not the original 2000cc engine. When I got the car, it came with a 2200cc engine, which was seized, why I replaced it with a 2300cc M115 engine.
More to follow.