Since this thread is fairly recent, just FYI that Summit has the front Koni shocks on sale right now for

$106

each with free shipping. So that's $212 total for the front shocks.

Koni #821388sp3

I've had many Bilsteins on many different cars over the years and they really are excellent shocks. Was getting ready to either buy the "Sport" valved ($298/pr + shipping) or the "Race" valved ($430/pr + shipping) and was having trouble deciding. With another ~$40 in shipping, it's probably ~$340 Sport or ~$470 Race for the front pair with shipping.

But, the rear Koni shocks

Koni #821389

are also on sale at Summit for $106 each.

So all 4 Koni shocks cost $420 shipped.

This amounts to a $280 to $380 savings over Bilstein for a set of 4 shocks (depending on Sport or Race valved) which isn't exactly pocket change.

I'm after a very aggressive street setup on my '65 Fastback that will see some track time.

The front shocks will be paired with a Shelby/Arning drop, Global West 640# springs, SorT 1/8" poly spring insulators, OTR roller perches, OTR stock "blueprinted" UCAs/LCAs, 1.25" roll bar on poly bushes, and SorT adjustable strut rods...along with typical export and monte carlo bars...as well as ~6 welded-in chassis stiffening parts.
The rear shocks will be paired with TBD new leafs, bushings, and either a Panhard or Watts Link. Need to get on the phone and talk with Hane Performance, SorT, Maier, and OTR to decide...

From those of you out there with either of these Bilsteins, would you have gone Koni at this price point?
Not sure who you're looking at for the pricing on the Bilstein's but Opentracker racing has the sports for $258 a pair. If you're wanting to go with Bilstein, I'd go that route and save $40 for the pair on the fronts. The rears are only $199 for the pair so you're looking at a difference of only about $40 for the set of 4 compared to the Koni's before the cost of shipping. Not exactly sure what that will cost but a call to John would probably solve that rather quickly. Definitely not a difference of $280-380, though.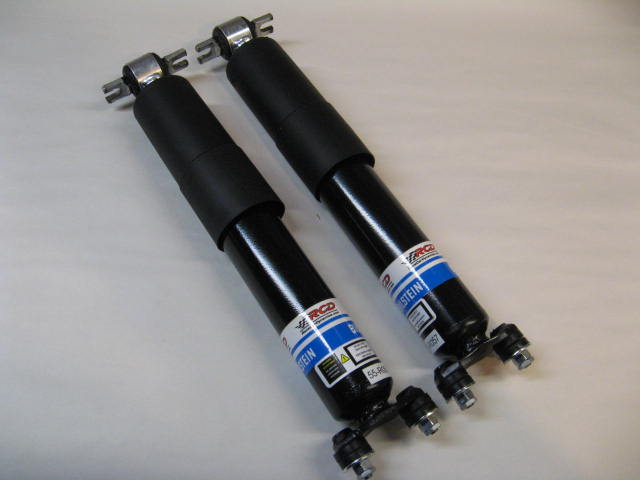 If you're looking for suspension performance, Bilstein shock absorbers are a great solution to improve your car's ride. Unbelievable control, precise handling, ultimate performance and incredible comfort. Sold in pairs