This thread was started to help explain the differences between a MII front end and the Custom IFS we sell for the 64.5-70 Mustang. Also, to discuss some of the more intricate details of the parts and geometry.
......I am updating this thread as I receive more images and drawings from my R&D department.
Total Cost Involved has offered two different style front ends for a number of applications for nearly 40 years. These vehicles range from Early Ford Street Rods to 50's pickups and of course Muscle Cars. Each one of these demographics has their niche that we try to fill.
Muscle Cars like the Nova and the Falcon have a huge following and due to their price point are prime candidates for a budget suspension upgrade. For these cars we offer the Coil Spring front end based on the MII spindle. Which is typically easier on the pocket book and performs extremely well with our custom geometry improvements. Here is a short video of testing performed on Nick Licata's '64 Falcon by Modified Mustangs & Fast Fords. This car ran 48.50 mph through the slalom on 320 treadwear tires using our MII front end & Triangulated 4-Link. This is just to show that even the MII with some well engineered geometry changes can perform well. Nothing fancy was added to our base suspension to achieve this either. These were all standard components that come in our baseline kits including regular coil springs up front and non adjustable coil-overs out back.
Onto the Custom IFS:
The Camaros & Mustangs are vehicles that have a higher entry price point with owners typically wanting top tier performance. For these cars we build/sell our Custom IFS front ends to match performance and in some cases exceed the best performance vehicles being produced today. These front ends utilize our Custom spindle and geometry specifically matched to a number of things including but not limited to, vehicle weight, max tire width, center of gravity, ground clearance, track width, amount of travel, and ride height. The spindle pin is based on the common '75-'80 Granada so bearings, rotors and seals are easy to find. However, the rest of the spindle is proprietary to TCI Engineering. It has more kingpin inclination, better ball joint angles (allows extra wheel travel without binding) and overall height is increased when compared to a more commonly used MII spindle. We also built a simple 4 bolt attachment plate to keep weight down and build strength for the caliper bracket mounting points. It also allows us to use removable steering arms which doesn't limit us like the MII spindle would. This means we can build kits for 60" wide pickups with all kinds of hood clearance or narrow cars like the Mustang where the rack must sit much lower in the chassis to clear the engine. That means we can make custom steering arms that bolt right onto this spindle to accomodate whatever packaging constraints we may have on a given application. We have made it a point to keep our crossmember tucked up as tight to the frame rails as possible with the 64.5-70 Mustang. Ground clearance with our kit is nearly the same as factory yet we drop the vehicle 2.5"-3" (with the dropped spindles). The bottom of our cross member hangs less than an inch lower than the bottom of the factory engine mount cross member. Some MII style cross members hang up to 2.5" lower than our Custom IFS leaving very little ground clearance. This gives our kit the best ground clearance in the aftermarket and yet we still have the biggest overall ride height drop (with dropped spindles).
Even though our kit for the Mustang is nearly identical to what we sell for the 1st Gen Camaro, the Mustang is a different animal than the Camaro in that the front clip doesn't unbolt from the car. That means we will be reusing the factory frame rails. We use extra wide reinforcement plates for the frame to keep the frame strong and to distribute the load across a larger surface. I have heard some installation shops mention that our kit is tougher to install because of these plates but we feel it is necessary for the additional strength they provide. We also wanted to get rid of the shock towers for extra space in the compartment and a cleaner look. This will allow the installation of even the largest of engines including the Coyote, FE's & 429-460 Big Blocks with room to spare. http://forums.vintage-mustang.com/total-cost-involved-engineering/645508-customers-car-dick-wells-67-w-fe-t56.html
*NOTE* Some customers have chosen to keep the shock towers but that was primarily for legality issues in places like New Zealand and Australia. http://forums.vintage-mustang.com/total-cost-involved-engineering/646231-customers-car-baldys-classics-68-mustang-vert.html
*insert image comparing the height of a competitors MII crossmember vs. ours*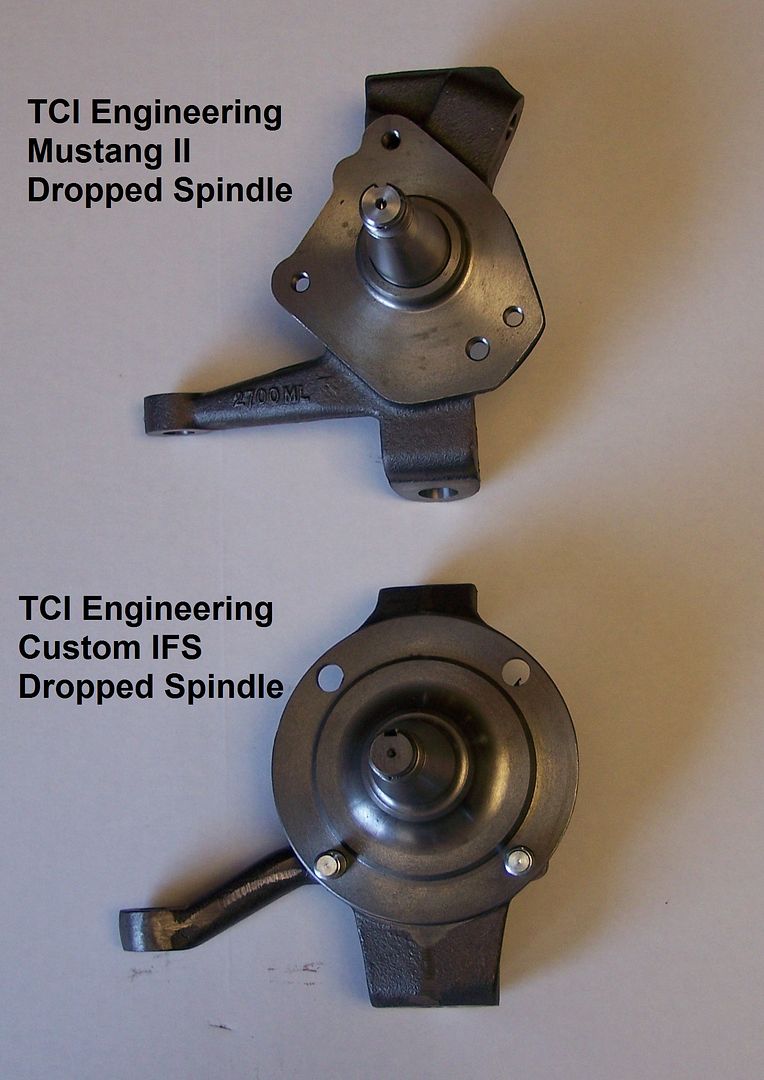 The TCI Engineering Custom IFS has greater roll stiffness than a typical MII kit due to a better motion ratio of the shock/spring. The coil-over attaches to the lower control arm closer to the ball joint on our Custom IFS vs. a MII or even a factory '64.5-'70 Mustang set-up. This means that the car will not have as much tendency to lean in the turns as a MII or a factory set-up would. Typical spring rates for our kits are 350-400# depending on small or big block engine. Compare that to a MII coil-over or a factory set-up which use 600+. The higher the spring rate needed to hold the car up, the less effective the springs are at keeping the car from leaning in a turn. Our kit will also not need as much anti-sway bar to keep the car level in a turn which saves weight.
1" bump = .8 Degree Negative
2" bump = 1.8 Degrees Negative
*insert image for camber gain*
The upper control arms are built with 1" x .156 Wall U.S. DOM steel.
The lower control arms are built with 1 1/8" x .156 Wall U.S. DOM steel.
Upper Control arm length = 7.8775"
Lower Control arm length = 13.2513"
*Insert image*
It has been brought up a few times as to what the height of our spindle is. You must include the pivot of the ball joints to know the true height.
(10.5" center of pivot to center of pivot)
*insert spindle height image vs. ball joints installed*
9.5" center to center of upper & lower control arm pivots
*insert c/a pivot height drawing*
We only use Moog ball joints. The upper is a Moog Part# K772 which has 28,000 Pull lout Strength - The lower is a Moog Part# K719 which has 32,000 Pull out Strength.
*Insert ball joint images*
*insert ball joint images*
*insert bump steer image specs*
1" Bump = .000
2" Bump = .062" Toe Out
*insert kingpin inclination drawing*
*insert anti-dive angle picture*
*anti-sway bar spring rate*
Here is a prime example of the versatility of the Custom spindle we use. We are able to make rear steer kits with this same spindle using special rear mounted steering arms & rack. The rear steer kits are for the early Street Rods like this 1932 Ford with one of our Pro Street chassis equipped with our Street Rod Custom IFS & Drag Race 4-link.
-J