Not sure how to parlay this into a "Mustang" thread, but I figure the vintage Falcon, and Cougar chassis are almost identical to the comparable year Mustang. I'll reference "Sally" my 65 wagon alot during this thread as that is what I'm building. With that being said, almost all the info I will present in this thread could and should be applicable to 1964 - 1970 Mustangs and variants.
This is a "Spinoff" of 1
stLove's 2.3 EB thread
in which I am a contributor. Instead of mucking up the
2.3EB thread
, a 3.5EB swap thread has been created.
Sally started life as a 1965 Futura 4 door wagon... or a "Longroof" as we call them. She was well optioned with the Futura V8 (289/C4) package, Deluxe interior, 2 tone exterior, Power steering, Power brakes, etc.
Original plans involved a small block ford 333 stroker, EFI, and a 4R70W, posi 8.8, Borgeson Box, Vintage Air, Dakota Digital Dash, new custom interior, 80" slider, safari cage, mini tub, etc.
With the EcoBoost bug biting me, I purchased a 2016/17 Mustang 2.3EB for my other 65 Falcon "Coop" which is detailed in the
other thread
. Now, alot of the same procedures, learnings, tech, apply to both the 2.3 as well as the 3.5 from a wiring and engine control standpoint. This, by far, is the most difficult portion of the swap, at least thus far.
I figured "If" I was going to jump in to the EB swapping pool, I might as well do so with concrete slippers in the deep end. With that idea in mind, and a whole bunch of herb to back my decision, I decided to pull the trigger on a 2020 3.5L EB with a whopping 946 miles on it. The truck center punched a tree so there is some minor damage up front. She needs a new TB, and a couple plastic water outlets up front and thats about it.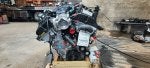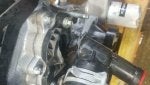 Now this is the Gen 2 3.5 with Di as well as port injection, Variable Valve timing, low profile intake, Electronic turbo wastegates, the works.In stock form, with a stock 2020 Ford Raptor tune this engine puts out 450RWHP and 510 Ft/Lbs of torque...
STOCK
. That should be enough to make a guy's ass pucker. If not there are several 490HP tunes out there.
My hope is to swing this beasty in, mate it to the 4R70W, slam it as far down in the bay as I can
WITHOUT chopping up the car.
The conclusion that I and several others have come to, is that the turbos will need to be relocated, the pan modified for our steering system, and a good fuel system are mandatory for it to fit.
Now in my case, I will
not
be running the EB trans 6R or 10R as I refuse to chop my floor pans, To fit the SBF patterned 4R70W trans to the 3.5 an adapter plate will need to be created, same as the 2.3, as well as a crank hub /spacer. As the 3.5 is an 8 bolt hub, I ordered up a Ford Modular flexplate from a Crown Vic as it has the correct Torque convertor pattern and has an 8 hole hub pattern. I also have a 4.6 patterned 4R70W sitting here that I could also make an adapter plate for. For those of you wanting to run the later Ford trans, significant floor pan and trans tunnel mods will need to be made to accommodate the size and positioning of those transmissions, and I will not be covering those mods, but they are the same mods needed to do a Coyote swap, therefore well documented on the Google machine.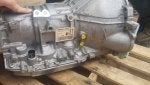 So the 3.5 Raptor pan will not fit as it is a rear sump and that is no mas for our chassis. the standard F150 3.5Eb 2 piece pan looked promising, but it too would need severe modifications and they leak like a sieve. I'm heavily Eyeballing the early Taurus pan. It looks like it may be a very good candidate for some trimming.
Anyways, it's just a thought... Feel free to throw out any advise or ideas on this one.