So here is my first build thread here. I had posted last year about this car and it has a great family history I will recap a short version here in the thread.
My dad bought this 1966 Mustang in 1967 before he met my mom, they dated in this car and he drove it as a daily driver until 72 or 73 then it was a weekend car until 79 when it was parked. I have a photo of the inspection that shows 78-79. The car has not been running sense mid 80s when there was a engine noise while idling and it got turned off. Growing up I was always told my older sister would get the car once dad fix's it back up. A few years ago my dad helped me on restoring a 78 F150 and he saw I could do the work and get a car back on the road. In the fall(2018) he decided to put brakes on this car so when I got it we could move it around safely, well at 69 years old he can't really get down on the ground and rebuild brakes like he use to and he told me I could have the car. So sold my 78 and got the mustang delivered today to my house. My oldest son called "dibs" while the car was still on the trailer but I told both my boys "The one that has the most wrench time with me on the car is the one that gets it when I'm ready to let it go."
One more thing is my wife and I always name our cars not sure why but we have done it for 20 years so we have already named the mustang. Her name is Cindy in honor of my mom that passed away 11 years ago.
Cindy's details
1966 Mustang
289 4 barrel
3 speed in the floor
Arcadian Blue with white two color seats (Dad called them phony seats)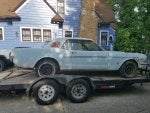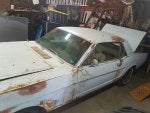 Car was wrecked in 67 or 68 and front driver fender and door got replaced from a yellow parts car. You can see in the photos it is the worst spot on the car the paint must have been thinner than factory.
Quick outline of my plan of attack on the car
1-Clean up the car and see what all I have to work with
2-Disc brake conversion on the front
3- Rebuild the drums in the back
4- Get the engine started and if it is bad rebuild it
5- Any small things so the car can be driven
6- Spring 2020 fly my dad up and let him drive the car.
7- Will do body work and undercoating on sections as I go and as time permits.
It is a lot of work to get done before spring but I think it is all possible, once dad drives the car I don't mind slowing down a little and getting body work finished so I can have it painted but want it drive able by spring.
I think we can get the clean up done this month and order the brake stuff around the 4th of July because guessing the online stores will have sales going on so maybe save a few bucks. While waiting for that I can pull the brakes off and do some work in all the wheel wells so they are ready for all the new parts.
Will be posting photos as we go.