Thanks Vegas,,, 3 songs,,,, wow youve done this before lol
I was using a dewault single speed 5 inch DA,,, no bueno,,,, heading to Harbor freight to get a 6inch Air DA today.
No don't do that, you'll be returning just as fast as you left to bought it. Don't even bother taking it out of the packaging. Cheap pneumatic DAs suck. I hate pneumatic DAs period. You want their electric buffer and get some hook and loop 6" 80 sanding discs off Amazon for it.
The newer Baxter branded HF air sanders are good. They compare favorably to the entry level Aircat. Not quite a Dynabrade but still good particlaurly for the money. I would avoid the Central Pneumatic line.
What
@Lizer
says about electric is spot on. My compressor runs flat out and after 20 mins I need to let it charge back up for a few mins. At that point I usually need to take a break anyway. You can use the electric for buffing as well. HF has a cheap one but I think the Porter Cable is the best value. It's less torque and less RPM than a purpose built air DA but you can do double duty.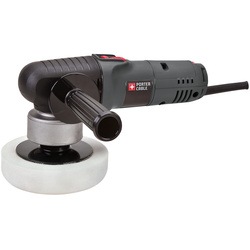 Ideal for polishing and sanding automotive and marine projects, this 6 in. Variable-Speed Random Orbit Polisher features a 4.5-amp motor for high overload protection and random orbit. Compact and lightweight at just 5-1/2 lbs., it delivers professional, swirl-free sanding/polishing action with...
www.portercable.com